Air Force
(1943)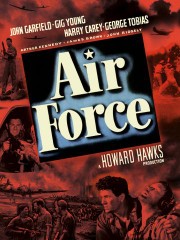 Tickets & Showtimes
Air Force Trailers & Photos
Movie Info
On December 6, 1941, a squadron of nine B-17 bombers takes off for Hickam Field, HI. The crew of the Mary Ann, including two new men, assistant radio man Private Chester (Ray Montgomery) and gunner Sergeant Joe Winocki (John Garfield), assembles for the flight, and in the first 20 minutes, the movie reveals certain things about the crew: the shadowy past of one, the mother of another, and the wife of a third; two of them are good friends with the sister of McMartin (Arthur Kennedy), the bombardier, who lives in Honolulu; the son of the senior member of the crew, Sgt. White (Harry Carey Sr.), is a pilot stationed at Clark Field in the Philippines. Then more characters make entrances: the aircraft commander Quincannon (John Ridgely); Weinberg (George Tobias), a Jewish mechanic from New York; and a man from a farm in the upper Midwest -- they all represent a broad cross-section of America as it saw itself, and the "regular guys" in the Army Air Force as it existed in 1941. The flight proceeds without incident. Winocki, an embittered, washed-out flight school candidate who accidentally killed another pilot, is about to leave the service when the weather report from Hickam Field is interrupted, and the radio man begins picking up transmissions in Japanese. The Mary Ann and the rest of the squadron fly right into the middle of the Japanese attack on Pearl Harbor unarmed and out of gas, and nearly crack up landing on an emergency field; no sooner do they make repairs than the crew comes under attack, and the plane takes off and makes for Hickam Field, which they find a flaming shambles. They fly on to the Philippines, stopping at Wake Island just long enough to meet a few members of the doomed Marine garrison, taking their company mascot, a dog, with them. At Clark Field, the Mary Ann and her crew finally go into action against the enemy, flying in alone against a Japanese invasion force; Quincannon is mortally wounded in the brief action, which leaves the plane damaged seemingly beyond repair. The remaining crew won't give up the plane, however, even when ordered to abandon and destroy her; they get the bomber off just ahead of the advancing Japanese, and survive to help bring retribution to the invading fleet and the Japanese empire. ~ Bruce Eder, Rovi
more
Cast
News & Interviews for Air Force
Critic Reviews for Air Force
Audience Reviews for Air Force
Shoshanah King
Apparently Where Over-Long Action Sequences Come From

As I've mentioned a time or two, I took a film class in college. This was more than ten years ago, so there's a lot about it I've forgotten, if not necessarily the list of films we saw. And one of the first of those films, which we saw for World War II Week (it was The History of the Twentieth Century Through Film), was [i]The Sands of Iwo Jima[/i], which we will not be doing here. A group of us used to sit out in the hall outside the classroom every day, and one day, we got to talking about our test on the first three films (the other two were [i]Sullivan's Travels[/i] and [i]Mr. Smith Goes to Washington[/i]). One of the girls asked me what I had put for "Was [i]The Sands of Iwo Jima[/i] propaganda?" (For the record, "Oh, dear God, yes." Followed by a more detailed explanation.) This astonished her. Somehow, I never did find out how, she'd gotten the impression that it was never propaganda if it came from The Good Guys. This despite the really blatant nature, which may actually have been worse from this movie, actually filmed mid-war.

On 6 December, 1941, a crew of American Army Air Force personnel take off from San Francisco. They're your usual crowd of Typical Americans From Every Walk of Life. (Except the minorities. This one doesn't even seem to have a Token Jew.) Of course, in those days, it was a much longer flight, and they get to Hawaii at about six in the morning the next day, just about in time for the radio operators to mistake a squadron of Japanese Zeros for them. They end up diverting to an emergency backup field on Maui, where they are shot at by a completely imaginary squad of Fifth Columnists. So they divert to Wake Island just before it's overrun, and from there, they go to Manila just before it's bombed. So they travel from there to Australia and approximate safety. As they fly and land, fly and land, they experience the obligatory grief and heartwarming distractions.

To be fair to the movie, people at the time actually did think the Pearl Harbor attack was assisted by Japanese-American residents of the island. (Though funnily enough, the film doesn't come with the Warner Apology Screen which they put in front of any cartoon with possibly offensive material.) It's only to modern eyes that it's so incredibly painful. We know that not one single act of sabotage could be attributed to any person of Japanese ancestry living in the United States. We also know, as it happens, that the Japanese living in Hawaii were not interned, because it was nigh on impossible to do so both for reasons of population and reasons of geography. (And the reason I don't call them citizens and have to dodge around the issue is that it was the law at the time that people born in Japan could not become citizens.) The thing is, we'd been underestimating the Japanese for so long that it had to be treachery and cunning, not actual military strength, which brought us down.

I really didn't connect to any of the characters emotionally. They were the sort of characters who appear in any movie of this type. We even have the token guy whose enlistment is almost up and who is planning to get out. And then comes the attack, and he's more gung-ho than the career military guys. As is their wont. There's the Outsider, the Proud Father, the Green Officer, and so forth, and the reason I don't say who played which character is largely because I can't remember which character is which. Oh, John Ridgely and Gig Young, I've got. Though of course Gig Young I remember mostly for the horrific end of his life. (IMDB lists his last marriage as ending with "her death," but since he shot her and then himself, one rather feels this is because they're unable or unwilling to change their standardized listings.) I mean, by the end of the film, they've even actually acquired a Cute Little Dog!

All in all, nothing really interesting here. I do think it worth mentioning that IMDB records two different fates for the real [i]Mary-Ann[/i], while Wikipedia asserts that there wasn't one to be lost in the first place and that a couple of different planes were used in filming, both of which were eventually used for training. Certainly the idea that not all men would last to the end of the War is hardly surprising--at one point, they mention going to Bataan, which won't end well for most of those who get there. The film itself acknowledges that it doesn't really know how things are going to turn out, because the war would last another two years. However, Howard Hawks notwithstanding, there isn't anything interesting about this movie relative to a lot of other movies of the same type from the same era. I mean, come on--it doesn't even have John Wayne.
Edith Nelson
½
Excellent story with a terrific cast, with John Garfield standing out the most. One of the best World War II films, although the story has the usual propaganda angle to it, but it was typical of the time. The story is excellent, and it's rousing with a great score.
James Higgins
Discussion Forum
Discuss Air Force on our Movie forum!
News & Features