Airheads
(1994)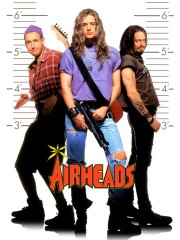 TOMATOMETER
AUDIENCE SCORE
Critic Consensus: There's a biting satire that keeps threatening to burst out of the well-cast Airheads, but unfortunately, the end result lives down to its title in the most unfortunate ways.
Airheads Trailers & Photos
Movie Info
Sick and tired of being ignored by record industry executives, three none-too-bright heavy metal musicians take a local radio station hostage to demand airplay. This broad comedy lampoons both the music world and police hostage dramas as it depicts the musicians' quest for freedom and a record deal.
more
Cast
News & Interviews for Airheads
Critic Reviews for Airheads
Audience Reviews for Airheads
½
Airheads is a fun and entertaining comedy that could have been much better, but for what it is, it is a film that is quite decent to average, but you can clearly see that it does fall short of its potential. The cast are quite funny in their roles, and this was one of the few films where Adam Sandler was enjoyable and fun to watch along with others such as Happy Gilmore and Big Daddy. Brendan Fraser is interesting as well, but the one who steals the show is Steve Buscemi and Chris Farley. Airheads does have good moments and rewatching it years later, I enjoyed it more so. For rock and metal fans, you're sure to enjoy the cameos by Motorhead vocalist Lemmy Kilmester and a short performance by White Zombie. If the script would have been reworked slightly, this would certainly have been a great comedy, as it is, it's a decent film with good on-screen gags. I did enjoy the film, but like I previously stated, felt that the film could have been reworked to make the jokes stands out more. Airheads is worth seeing if you want a fun and entertaining comedy, but it's not a stand out picture either. Go into this one expecting some laughs with decent performances and you won't be disappointed. Airheads is fun for what it is, but the idea for the film is interesting and the humor is silly and good, mindless entertainment. This is worth checking out if you want to watch one of the better Sandler films. With that said, I don't think he was the standout actor here, but he was pretty good in his role as one of the dimwits taking the radio station hostage. Airheads is decent, but you have to wonder how good this film could have been.
Probably the first rock band type comedy I saw after 'Spinal Tap' and there hasn't been too many since accept for 'School of Rock' and 'The Rocker' of the top of my head. This, now old, comedy was a small release in the UK I believe and didn't really do that much (a typical Fraser release) and you can see why sort of, its not a terrible comedy but its not that great either, its steady stuff.
There are some good laughs dotted around and one or two nice visual goofs but nothing really really amazingly funny. The main trio attract with Buscemi, Fraser and Sandler...when he was making more risky comedies, the support are good too although Mantegna is slightly miscast.

Its amusing and its a good flick to watch with friends on a weekend, Fraser gets a little whiny towards the end and when I think about it the plot is a little like 'The Blues Brothers' with the same kind of ending. Not a classic but just above average.
Airheads Quotes
Ian the Shark: You can't pluralize "The Long Ranger".
Chazz Darby: Why not?
Ian the Shark: There's three of you. You're not exactly lone.
Wilson: [seeing the crowd running towards the stage with him in the way] HOLY SHIT! BACK IT UP! BACK IT UP!
Rex: [to Pip] Get in the van, dingus.
Discussion Forum
Discuss Airheads on our Movie forum!
News & Features