Amityville 1992: It's About Time
(1992)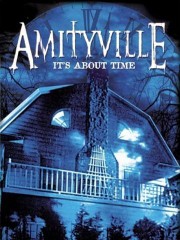 Tickets & Showtimes
Amityville 1992: It's About Time Trailers & Photos
Movie Info
In this the sixth of the Amityville Horror series, a mantel clock purchased and brought into the home of an unsuspecting family begins to envelop the house in a avalanche of terror.
more
| | |
| --- | --- |
| Rating: | R |
| Genre: | Horror |
| Directed By: | Tony Randel |
| In Theaters: | Jul 16, 1992 Wide |
| On DVD: | Jul 16, 1992 |
| Runtime: | |
Cast
News & Interviews for Amityville 1992: It's About Time
Critic Reviews for Amityville 1992: It's About Time
Audience Reviews for Amityville 1992: It's About Time
½
Okay I admit it. The Amityville movies are definitely one of my guilty pleasures in life- but hey everyone has a vice right? I just genuinely get excited before I'm about to see another, and so far (with the exception of the incoherent snooze-fest that is Amityville 3/ 3-D) they've all been pretty entertaining.

So they aren't highly polished works of art, the standard of acting is variable to say the least, and the series did very quickly descend to made for TV/ straight to video territory. But I find the films to be a lot of fun, and considering the sheer number of sequels (seven and a remake to date) for the most part each film does manage to bring something new to the series, and considering the original concept of a haunted house doesn't lend much in the way of creative flexibility, it has been fun to watch the different ways in which the subject matter is approached.

Amityville 1992 : It's About Time (or simply Amityville: It's About Time as it is known on DVD) continues the theme of items from the original Amityville house ending up in new households, only to wreak havoc, as introduced in Amityville: The Evil Escapes. In this case it is an antique clock, which the audience will discover has a history of its own. However, rather than go for the obvious "and then things get thrown around the house and the walls bleed route" the writers have decided to play with the theme of time- we see glimpses of the past, time slows down and speeds up, and events are undone. Yes the premise of course is ultimately silly- time warps don't fit comfortably with Amityville lore, but it does make for a nice twist in the saga.

I liked the fact that characters were flawed also- our heroine Lisa (played convincingly by Megan Ward is introduced to us as a woman who is cheating on her psychiatrist boyfriend with an ex she knows she shouldn't get involved with/ Okay it's not groundbreaking stuff, but for the genre of horror it's a nice move away from the virginal stereotypical protagonist. In many other horror films she wouldn't be the female lead, she'd be the prime victim.

Expect some unintentionally hilarious dialogue, one of the charms of the Amityville horror movies, and look out for an interesting death scene which reminds me of the Final Destination films- you think you've escaped death by oh no you haven't. In fact it's delivered with (I hope) a real tongue in cheek sense of humour- you'll know what I mean when you see how the poor character is finished off! So to summarise- silly fun that's certainly worth renting. If you've seen the other sequels you'll know what to expect- it won't make for high brow film discussion, but it'll entertain for a couple of hours, and make you laugh a couple of times too.
½
Surprisingly an improvement over the other amityville sequels, but this still has nothing to do with the murders and the haunting. It's just insane how they can ignore such a story and continue with nonsense.
Discussion Forum
Discuss Amityville 1992: It's About Time on our Movie forum!
News & Features