Animal Kingdom
(2010)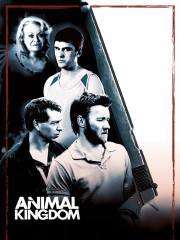 TOMATOMETER
AUDIENCE SCORE
Critic Consensus: With confident pacing, a smart script, and a top-notch cast, Animal Kingdom represents the best the Australian film industry has to offer.
Animal Kingdom Trailers & Photos
Movie Info
Welcome to the Melbourne underworld. It's the Wild West, played out on the city's streets. Armed robber Pope Cody is on the run from a gang of renegade detectives who want him dead. His business partner and best friend, Barry "Baz" Brown. wants out of the game. Pope's younger brotherCraig Cody is making a fortune in the illicit substances trade, whilst the youngest Cody brother, Darren, naively navigates his way through this criminal world -- the only world his family has ever known. And into this world arrives their nephew, Joshua "J" Cody, who comes to believe that he is a player in this world. But, as he soon discovers, this world is far larger and more menacing than he could ever imagine.
more
Cast
News & Interviews for Animal Kingdom
Critic Reviews for Animal Kingdom
Audience Reviews for Animal Kingdom
½
One of the better opening monologues I've seen, eminently quotable and providing not only a snapshot of all the characters we'll meet, but also a voice for the film. Here's a taste:

"Mom kept me away from her family because she was scared. I didn't know it at the time, but they were all scared, even if they didn't show it [...]. Even if they didn't know it, exactly. Even if they were having to do what crooks do all the time, which is block out the thing they must know - they must know it - which is that crooks always come undone, one way or another. [...] All this seemed strange to me, but not strange, either, you know what I mean? Kids just are wherever they are, and they just do whatever they're doing. This is where I was, and this is what I was doing."

Josh's mom has just died of a drug overdose, and he tells us all this over the opening ten minutes, punctuated by a few telling conversations, as we see the family that he has no choice but to move in with, and the crimes he won't be able to help getting mixed up in. With the die cast, the stakes remain high, as this coming-of-age story has an angle like few others; as opposed to having to prove himself in the world of crime, Josh needs only to survive. Tense and well-acted, sincere but gritty, it's got several surprises and most importantly, comes across as a story that could be true. An unconventional crime flick that you must see.
½
An intriguing tension filled film, 'Animal Kingdom' is a strong debut feature from David Michod that draws you in with its darkly brooding characters. The film itself felt like a mix between 'Snowtown' and 'The Wire'. It was similar to 'Snowtown' with its central idea and setting but the constant feeling that no one is safe is reminiscent of 'The Wire'.

The film is shot rather conventionally but is filled with imagery revolving around the title. Although the idea isn't original what is original is Animal Kingdom's spin on it, relating a criminal family to a pack of lions.

Overall, although unoriginal 'Animal Kingdom' is a worthwhile watch with strong performances and an interesting spin on a much used subject.
Animal Kingdom Quotes
Joshua 'J' Cody: After my mom died, this is just the world I got thrown in.
Janine 'Smurf' Cody: [crying] I'm having trouble trying to find my positive spin. I'm usually very good at it. Usually it's right there, and I can just have it. But I'm having trouble finding it now.
Andrew 'Pope' Cody: It's a crazy f*ckin' world.
Discussion Forum
Discuss Animal Kingdom on our Movie forum!
News & Features