Any Gun Can Play (Vado... l'ammazzo e torno)
(1968)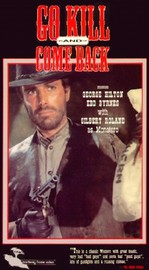 AUDIENCE SCORE
Critic Consensus: No consensus yet.
Tickets & Showtimes
Any Gun Can Play (Vado... l'ammazzo e torno) Trailers & Photos
Movie Info
Gilbert Roland and Edd "Kookie" Byrnes star in this spaghetti western. Bounty hunter George Hilton is dispatched to track down a wily criminal. Hilton decides to wait until the crook leads him to a fortune in buried gold; at that point, the so-called hero intends to stake his own claim. Naturally, not everything works out as planned. Go Kill & Come Back features a Francesco De Masi musical score.
more
Cast
News & Interviews for Any Gun Can Play (Vado... l'ammazzo e torno)
Critic Reviews for Any Gun Can Play (Vado... l'ammazzo e torno)
All Critics (2) | Top Critics (1) | Fresh (1) | Rotten (0)
[A] twisty little story of suspicions and betrayals and shifting alliances has a pleasantly lighthearted tone, helped immensely by [Gilbert] Roland's easy performance.
Audience Reviews for Any Gun Can Play (Vado... l'ammazzo e torno)
Bruce Bruce
Super Reviewer
½
Italian director extraordinaire Enzo G. Castellari made a huge name for himself with superior action films in numerous cult genres including macaroni combat and polizetteschi crime thrillers. Like most of his brethren he got his start in the infamous spaghetti western genre with 'Any Gun Can Play'? being first solo directing effort proving he had an eye for action even at the earliest stages in his career.

The plot is a variation and the 'The Good, the Bad and the Ugly'? theme where three completely different individuals come together in order get a load of money. Edd Byrnes plays a banker in charge of the loot that gets stolen of a train. Gilbert Roland is the leader of a gang of bandits that robbed the train of it'(TM)s bank load of gold. George Hilton is a bounty hunter on the trail of Roland for his ever increasing amount on his head. All three become entangled with their greed for the gold... but can they trust each other to pull it off or will each succumb to their personal greed?

The best part about this early spaghetti western is Enzo'(TM)s eye for dynamic camera angles. Even in this, his earliest films his work in inspirational with bizarre camera angles abound, like having the camera show through the train engines cattle guard and even up through bridges. Some really great shots here.

All the actors are also appealing with George Hilton stealing the show as the lovable smartass bounty hunter who roams around smirking making him questionable whether he is trustworthy or not. Edd Byrnes has a little too much boyish charm for my taste of spaghetti western stars but thankfully his character isn'(TM)t supposed to be the strong silent type so he was casted appropriately

My main beef is that Enzo doesn'(TM)t seem to know exactly how he wants to approach the subject manner. It'(TM)s part serious western and part satire of the genre. The opening is a poke at Leone'(TM)s 'Man With No Name'? Trilogy and there are even bizarre comedy sequences which include dopy music. Hell there is even some inanely out-of-pace trampoline jumps of people doing head over feet stunts off of roof tops. That shit is more in place in a "Sabat"a film and seems out-of line here.

Even with it'(TM)s awkward comical moments, 'Any Gun Can Play'? still ends up being a very entertaining entry into the spaghetti western genre and a solid first outing for Enzo G. Castellari. As good as Leone? Not by a long shot but fans of the genre will get plenty of kicks out of this action packed entry. Released by VCI on DVD in a double feature with 'A Bullet for Sandoval'?.
A banker (Byrnes), a bountyhunter (Hilton), and a bandit (Roland) race each other to recover a stolen gold shipment that was hidden by a Mexican cutthroat who was subsequently killed by the US Army.

"Any Gun Can Play" is a singularly uneven and uninventive western. It starts out attempting to be a dramatic western along the lines of "The Good, the Bad and the Ugly" but it turns into a comedy along the lines of "My Name is Nobody" at about the halfway mark, but it is vastly inferior to both of those other movies. The first half of this film is so-so, but once it tries to become a Hill/Spencer-style western spoof, it becomes an unfunny mess with dull fights, dumb gags, and scenes that drag on and on because the director seemingly lost all ability to know how end a scene.

The best part of the is the performance by Gibert Roland, who plays a Mexican bandit leader who masterminds the goldheist and later finds himself doublecrossed every time he turns around. He the only actor who rises above mediocrity of everything around him.

Everything about this movie is unoriginal, substandard and lackluster. It's not so bad so as to be unwatchable, but there are far better ways to spend your idle moments.


Any Gun Can Play (aka "River of Blood" and "For a Few Bullets More")
Starring: Edd Byrnes, George Hilton, Gilbert Roland, Ivano Staccioli, and Kareen O'Hara
Director: Enzo G. Castellari
Steve Miller
Any Gun Can Play (Vado... l'ammazzo e torno) Quotes
Discussion Forum
Discuss Any Gun Can Play (Vado... l'ammazzo e torno) on our Movie forum!
News & Features