Arctic Blast
(2010)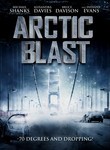 AUDIENCE SCORE
Critic Consensus: No consensus yet.
Arctic Blast Trailers & Photos
Movie Info
A cold wind sweeps across the planet, leaving death in its wake and threatening to put the entire human race into deep freeze in this breathtaking ecological thriiller from Australian director Brian Trenchard-Smith. It all started when a U.S. research vessel ran aground in Australia. Inside, a grim discovery: the entire crew of 15 has died from no discernable cause. Upon learning of his colleagues' inexplicable deaths, world-renowned physicist Jack Tate (Michael Shanks) vows to uncover the cause as the divorce with his wife Emma (Alexandra Davies), the town medical examiner, is finalized. Meanwhile, the strain in Jack and Emma's dissolving marriage has caused their teenage daughter Naomi (Indiana Evans) to become bitter and withdrawn. When the pieces of the puzzle start falling together and Jack realizes mankind may be witnessing the dawn of a new ice age, he presents his findings to the scientific community, which openly derides his radical theory. But they have no choice but to accept it once the frigid wind blows onto land, claiming countless more lives. Now, as the authorities race to evacuate the town, Jack calculates that it won't be long before the lethal wind sweeps across America as well. When the government fails to stop the storm, Jack devises one last plan to save the human race by working with Mother Nature, rather than against her. ~ Jason Buchanan, Rovi
more
Watch it now
Cast
News & Interviews for Arctic Blast
Critic Reviews for Arctic Blast
All Critics (1) | Fresh (0) | Rotten (0) | DVD (1)
Audience Reviews for Arctic Blast
Dead Angel
Super Reviewer
One line summary: The ice fog that froze Tasmania spreads around the globe.

-------------------------------------------

Front story: after an eclipse of the sun, there is a major singularity in the Earth's atmosphere, and the drop in temperature starts. All the rest of the film as about: figuring out causation, predicting effects, and constructing a way to stop, then reverse, the effects.

Back story: Jack and his wife Emma are getting a divorce because he spends too much time at work. Of course, Emma also spends too much time at work, but Jack gets blamed for it, since Emma got to her lawyers first.

We have some of the usual themes. A few people know disaster will strike, but the people they contact will not believe them. This happens to Jack as he tries to warn of additional problems after his company's research ship has all on board frozen to death. After a while we get the 'boy who cried wolf' problem; no one will believe Jack no matter what he says. Those in power are somewhat willing to believe the predictions after plenty of damage and death has already occurred. An extra threat comes into play: the child of one of the leads (in this case Emma, Jack's ex) is in jeopardy for a substantial part of the film.

The last usual theme is: the survivors put in a perhaps successful effort to stop the threat.

This fails at first because Jack is 'out of the loop,' and the solution proposed by Winslaw, who is in the loop, is destined only to make things worse.

After the massive fail, will anyone get behind Jack? If so, will they be in time?

------Scores-------

Cinematography: 10/10 Fine.

Sound: 10/10 No problems.

Acting: 7/10 Not as bad as many of these formulaic disasters. I liked Michael Shanks. The lesser known actors were were not as bad as I expected.

Screenplay: 5/10 There is nothing new here. I've seen this film at least 30 times before. The themes mentioned above are used just about every time. The only variable is the current threat: meteors, sharks, piranhas, insects, whatever. Fortunately, the movie was easy on the eye, pleasant to the ear, and the SFX were not all deadly bad, as is often the case.
I realize this sort of movie is just for entertainment and I should just enjoy it, but to do that, for me the show's gotta have at least some little piece of actual science. This movie has none. Zip. Nothing.
Discussion Forum
Discuss Arctic Blast on our Movie forum!
News & Features