Around The Block
(2014)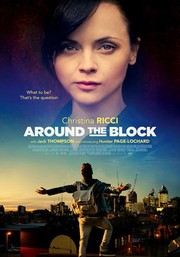 Around The Block Trailers & Photos
Movie Info
Around the Block is the story of American Dino Chalmers (Ricci) - an edgy and charismatic drama teacher with a passion for Shakespeare. When the opportunity arises for her to work at a school in inner Sydney, she embraces the chance to introduce the magical world of theatre as an alternative to life on the tough streets of Redfern in Sydney, Australia. The film centers on the developing relationship between Chalmers and Liam (Page-Lochard), a sixteen-year-old urban Aboriginal student who lives around the block in Redfern and earns the lead in her production of Hamlet. As Chalmers presents Liam with a possibility of a life without drugs and violence, he must choose between pursuing his newfound dream of performing or following his family into a cycle of crime. (c) Random
more
Cast
News & Interviews for Around The Block
Critic Reviews for Around The Block
Audience Reviews for Around The Block
½
It might be a little predictable, and it's not really anything new as far as "under privileged" teen movies go, but there is something special about Around the Block. It has to do with the performances of Christina Ricci and Hunter Page-Lochard. For American audiences it will be very interesting to see the aboriginal people of Australia depicted on screen. I've seen several period pieces about it, but it was so interesting to see how racism is treated in modern-day Australia.

Writer/director Sarah Spillane has some really good moments throughout the film, but ultimately doesn't seem strong enough to handle the material. She has the confidence to allow the film to breathe at the right moments, and most of the film is pretty subdued. In other moments things feel rushed, and not given enough time to really develop necessary elements.

It's a moving film, but it doesn't bring much new to the genre. However, if this comes on cable, which I doubt it will, it will be worth your time to watch.
½
Overview
In this white savior narrative, an idealistic American woman shows the talents of the indigenous kids of Australia by having them do Hamlet.

Review (with Spoilers)
I don't recall seeing Christina Ricci's face since when she was on The Good Wife and Pan Am back in 2012, so it's nice to see, two years later, she is still working. Though with this being your usual white Savior type film, it does make you wonder if this was really that good of a choice for her. Well, read below to find out.

Characters & Story
Dino (Christina Ricci) has just recently returned to Austrailia, after going to college there, due to her boyfriend Simon (Daniel Henshall). But, just because she may have moved to a different country for a man, don't think she doesn't have aspirations. Dino seems very into videography, and has a background just right for a local school, which mostly caters to indigenous kids, that is on its last leg.

Enter Liam (Hunter Page-Lochard) who plays the poor, unfortunate student of which Dino focuses on. Liam lives with his mother and brother Steve (Mark Coles Smith), and his father is in jail. Though with how Steve is steering his life, and tries to steer Liam's, it seems eventually his mother maybe living in their home alone. But Dino tries to prevent this by getting Liam involved in her Hamlet production. However, with Steve wanting to pursue revenge for his uncle's death, and wanting Liam to help, will Dino get to save this one kid or will he fall through the cracks?

Praise
Honestly, when I was writing this I placed what is in the criticism as praise. But, thinking about it, honestly with every bit of praise I can fathom comes some form of disappointment. So while it is nice that Liam and Dino got some slightly developed stories, at the end of the day the film sort of ignores what would make two great movies on their own and sadly combines them.

Criticism
For those of you who watch Orange is the New Black, like that show this movie has characters which are, for a lack of a better term, people of color who are far more interesting than the white lead. Liam, for example, has quite a rich story that I wish was more focused on. For between the relationship he has with his family; his friendships, which are sadly unexplored; and this romance he has with Williemai (Madeline Madden), you can see a lot of what could have made the story a bit more compelling was traded in so that Ricci's character maintained dominance.

And while it may sound like I'm implying Dino wasn't interesting, the truth of the matter is that I just felt that with the potential Dino and Liam's story had, mixing the two was just a waste for both of them. For Dino has had quite a life herself. Between her dad's suicide, lesbian affairs, and her being closeted, I feel like neither Liam nor Dino got justice for their stories for it was watered down into a white savior film.

Overall: TV Viewing
This is the type of film which simply has wasted potential. It has two perfectly good stories, both which warrant their own film, but in order to fit the mold of a white savior film both stories get diluted and end up ultimately disappointing. But, even with that said, the pieces we are given are interesting enough to warranting seeing this. So, this is being labeled as TV Viewing.
Discussion Forum
Discuss Around The Block on our Movie forum!
News & Features