Assault On Wall Street
(2013)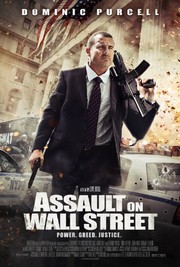 Assault On Wall Street Trailers & Photos
Movie Info
A security guard for an armored truck, Jim (Dominic Purcell) is a blue-collar New Yorker who works hard to earn a living. His wages support himself and his wife Rosie (Erin Karpluk), who is on the upswing recovering from a near-fatal illness. Yet things start to fall apart after Rosie's health insurance stops covering her treatment and Jim's life savings are lost via a disastrous investment his stockbroker had advised him to make. As a row of professional and personal dominoes falls, Jim is confronted by the realization that, after being abused and exploited by financial institutions for far too long, he has only one choice: to strike back. From the mind of notorious German writer/director Uwe Boll (House of the Dead), ASSAULT ON WALL STREET is excoriating look at the American financial system that is sure to stir up plenty of Occupy-esque sentiment. (c) Phase 4
more
News & Interviews for Assault On Wall Street
Critic Reviews for Assault On Wall Street
Audience Reviews for Assault On Wall Street
Nate Zoebl
Super Reviewer
½
Director, Uwe Boll who has definitely established himself as one of the worst reviewed directors of all time, crafts one of his finer and more gripping films. It's a dramatic thriller about the financial system and the greed and corruption that goes with it. A powerfully effective, dark and ferocious thriller that packs a pure punch of gripping drama and explosive chaotic action. Dominic Purcell is outstanding, he gives a raw and intense performance about a man who goes the lengths to exact his own brand of justice and vengeance. The first half of the film does very well with the drama, it shows the lead character going through a rough time and showing he is doing what he can to make things right. The camaraderie between the actors is terrific, they have great chemistry and bring some sharp and great character development. It keeps your attention all the way through and to the explosive action-packed finish.
½
Uwe Boll is notorious as being one of the worst filmmakers in the history of the medium. But with every filmmaker, he can direct a good film. He has proven himself in the past with Rampage, Seed and Tunnel Rats, three underrated films that really don't deserve the flack they have received. Boll can make a good film, and with Assault on Wall Street, he crafts his best film. This is clearly a personal film, one that Boll felt strongly about. I think that Uwe Boll is a director that can create something good when he works with his own ideas, and decides to tell his own ideas. This is a well crafted film that can surprise the most reluctant Boll hater. I enjoyed the film, thought the acting and directing were well done, and it a surprising picture by Uwe Boll. Boll has had a sketchy career, granted, but he can make a good movie that is entertaining. Assault on Wall Street is an accomplished film that makes you ask important questions and brings to light an important issue. The film works due to the strong performance of Dominic Purcell who really brings something unique to the screen. This film is Uwe Boll's finest picture, and of the films I've seen from him, he really gives this one his all and it proves to his harshest critics that he can make something watchable. The film doesn't deserve the flack it has received and with that said, Boll puts to light important issues that shouldn't be ignored. Assault on Wall Street has its flaws, but is definitely not as bad as what the mainstream critics have said. Sure there are aspects of the film that leave room for improvement, but overall Boll has crafted a highly engaging revenge drama that is worth seeing. With an effective cast, and interesting concept, Uwe Boll delivers the strongest film of his career, one that deserves to be seen.
Assault On Wall Street Quotes
Jim: I'm still alive and free and I promise I will keep killing. They should all know that I am out there, a soldier of the people and if the government, the prosecutors and the judges fail on their duty, I will not fail on mine.
Discussion Forum
Discuss Assault On Wall Street on our Movie forum!
News & Features