Beautiful Girls
(1996)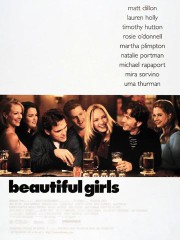 TOMATOMETER
AUDIENCE SCORE
Critic Consensus: A warm, thoughtful dramedy about male insecurity, Beautiful Girls is buoyed by an excellent cast - particularly Natalie Portman in a stunning early role.
Beautiful Girls Trailers & Photos
Movie Info
A high-school reunion in a snowy New England town brings together a band of former classmates who go from tavern to tavern discussing sex and relationships. The classmates include NYC pianist Willie who has found some success playing night clubs. While in town, Willie finds himself unnaturally attracted to a seductive 13-year-old girl. Then there's Tommy, the aging jock who though seriously involved with Sharon, cannot resist the occasional walk down memory lane by sleeping with the former prom-queen Darian, who is also married. Immature Paul is so obsessed by the swimsuit-clad supermodels plastered all over his walls that Jan, his waitress girlfriend, dumps him. Paul then begins going out with gorgeous Andera, who tries to explain that she is more than beautiful. Finally there is Stinky, who is just visiting, and Gina, who fancies herself a feminist counselor.
more
Cast
News & Interviews for Beautiful Girls
Critic Reviews for Beautiful Girls
Audience Reviews for Beautiful Girls
♥˩ƳИИ ƜѲѲƉƧ♥
Super Reviewer
½
The first time I saw this movie, I LOVED IT. The second time, I thought it was just okay, maybe even a little below okay. Perhaps, due to the lack of subtitles on this particular disc I now own, I couldn't READ the movie while viewing it, so I noticed that a few performances didn't capture the gravitas of the screenplay.

I remember loving Paul's slam poetry ode to supermodels (how "they're bottled promise...hope dancing in stiletto heels" and how that's as good as love), but something in Michael Rapaport's faux-gangsta posture and gait seems stilted, as if he wasn't completely sold on his character's near sociopathic rant of genius. I also remember loving Willie's meditation on thirteen-year-old Marty (how she will blossom into awesomeness in ten years and that he'd wait for her), but the cinematography is too staid and the effect of the moving monologue whispers pedophilia before it whispers, say...imprinting (ala Twilight werewolves). I also also remember loving Mo's raving, nonsensical battle cry, "YOU FUCK WITH ME, YOU FUCK WITH YOU! YOU GO TO THE FOUNTAIN, YOU DRINK? YOU DON'T DRINK!" but the loud audio makes it difficult to hear actual words.

All in all, a damn shame cuz the coming-of-middle-age story is quite beautiful, and the young Natalie Portman as Marty is indeed precocious and magnetic.
½
This would qualify for my teen angst movies, except it is 20's angst. Six small-town guys are in town for a school reunion, and all are in various crossroads. Do I get married? Do I continue my affair? What about my job? The only thing wrong with the movie is that in one short weekend, they mostly figure out what they want to do with their lives. If only life was so easy.
Beautiful Girls Quotes
Tommy (Birdman) Rowland: What's with you, man?
Paul Kirkwood: What?
Tommy (Birdman) Rowland: Well, how much you pay for this brown rock?
Paul Kirkwood: What difference does it make?
Tommy (Birdman) Rowland: What difference does it make? Diamonds are supposed to be colorless! You go out and buy a colored diamond for a girl you're not even seeing, man, you've been eating retard sandwiches again.
Andera: You know there are fours words I need to hear before I go to sleep. Four little words. Good night sweet girl. That's all it takes. I'm easy, I know, but a guy who can muster up those four words is a guy I want to stay with.
Steve Rossmore: [to Tommy] Let me get this straight. I can't buy you a drink, but you can put your d**k into my wife?
Willie Conway: You know in five years you won't even remember me.
Discussion Forum
Discuss Beautiful Girls on our Movie forum!
News & Features