Entre las piernas (Between Your Legs)
(1999)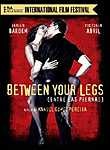 AUDIENCE SCORE
Critic Consensus: No consensus yet.
Entre las piernas (Between Your Legs) Trailers & Photos
Movie Info
Often referred to as a cousin to Pedro Almodovar or Bigas Luna, Manuel Gomez Pereira has been covering up his sharp social satire behind nice exteriors in his previous five films. No more nice guy, says Pereira, in an erotic tale of sex-o-mania. And with who else but ravishing Victoria Abril in the role of radio show assistant Miranda who just can't get enough! Miranda meets budding screenwriter Javier (Javier Bardem) during a group therapy session for sex addicts. Javier cannot live without regular telephone sex, while Miranda goes out every night in search of quick sexual encounters. They make love in the back of an abandoned car which has a corpse hidden inside its trunk. Miranda's jealous husband is the cop investigating the case.and it soon looks like Javier has been framed. There is quite a bit of Hitchcock here, which is acknowledged by Pereira. But on the whole, the film does not have a strong structure to carry the weight; the sex addiction theme of the first part goes out of focus when several subplots (unidentified corpse, etc.) distract the audience, resulting in a soft porno picture with little plausibility. The redeeming factor is the convincing acting by the sensual Victoria Abril. ~ Gönül Dönmez-Colin, Rovi
more
Cast
News & Interviews for Entre las piernas (Between Your Legs)
Critic Reviews for Entre las piernas (Between Your Legs)
All Critics (2) | Fresh (1) | Rotten (1) | DVD (3)
For its last hour, it's a rare piece of junk that only Joe Eszterhas could enjoy.
The luscious Abril and the appealing Bardem give first-class performances and manage to make a go of this implausible and overwritten thriller.

Ozus' World Movie Reviews
Audience Reviews for Entre las piernas (Between Your Legs)
ld pierce
Between Your Legs (1999) Entre las Piernas Miranda is a crew member of a nightly radio programmme. She and her husband Felix, a cop, are parents of a girl. Miranda's daily dog walking strolls are excuses to pursue sexual encounters with men, who she readily discards afterwards. In order to deal with her sex addiction, she signs up for therapy. Also in the group is Javier, a successful scriptwriter and producer who is a sex-phone junkie. The two misfits hit off and a steamy affair ensues. But things get a little complicated when Javier finds out that this phone sex trysts have been secretly taped and being distributed all over Madrid, and that his ex-wife is living with his business partner. Elsewhere, while investigating a murder case, Felix discovers Miranda's affair with Javier. I also felt betrayed at the end when I noticed the strong homophobic sentiment of the movie. It just shows how the Spanish society continues being so conservative. Like the prejudices behind this movie, the first negative reactions in Spain to the movie "Bad Education," where the main actors behave homosexually and bisexually, just serves to prove that a large number of people in Spain are still trapped by the sexual mores of the Catholic Church. But besides the issue of homosexuality, the smoking like chimneys, and the fact that the thriller could have been made better, the movie is one of the best in its genre. I specially liked Victoria Abril's performance. In Abril, the movie took a thirty-something women and made her the sexual object and the central sexual figure of the narrative. This contrasts with Hollywood's productions in which most females playing such roles are teenagers, twenty-something, or extremely glamorous. I think this movie illustrates by contrast how the U.S. society is so obsessed with youth, to the detriment of older women in particular.
½
Nowhere near as exploitative at the title suggests, the film is actually a clever Hitchcockian thriller about obsession. "Between..." opens with a title sequence similar to Saul Bass' title sequence in Hitchcock's "Vertigo", and the film's musical score is also very reminiscent of Bernard Herrmann's score for "Vertigo", making this film into an obvious homage to the Hitchcock's classic dream-like thriller. The performances are terrific and the atmosphere is hallucinatory with flashbacks, flashforwards, and dreams all blended together. The film does suffer from an unpolished screenplay that doesn't have a strong enough focal point, making it sometime incoherent and unfocused, and there a moments where is drags, but the film still manages to draw you in and the twist ending is truly a surprise (which is rare in this day and age).
Discussion Forum
Discuss Entre las piernas (Between Your Legs) on our Movie forum!
News & Features