Big Trouble in Little China
(1986)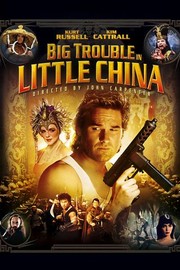 AUDIENCE SCORE
Critic Consensus: Brimming with energy and packed with humor, Big Trouble in Little China distills kung fu B-movies as affectionately as it subverts them.
Big Trouble in Little China Trailers & Photos
Movie Info
Playing in a manner that can be conservatively described as larger than life, Kurt Russell plays a macho truck driver who agrees to go to the San Francisco airport and pick up his friend's (Dennis Dun) fiancee (Suzee Pai, freshly arrived from China. Suddenly, a gang of Chinatown toughs kidnap the girl right before Russell's eyes. After a wild chase sequence, Russell discovers that the girl has been abducted by a genuine, bonafide sorceror (James Hong), the ghost of a 3000 year old warlord. And that's just for starters. ~ Hal Erickson, Rovi
more
Cast
News & Interviews for Big Trouble in Little China
Critic Reviews for Big Trouble in Little China
Audience Reviews for Big Trouble in Little China
Tonally different from anything John Carpenter has ever done, "Big Trouble in Little China" follows Dennis (Kurt Russell) on a wild goose chase to find a friends fiancee after she's been kidnapped. Once realizing that the kidnapper's have more to them than meets the eye, this picture becomes bizarrely original. The main plot may have been a little tired to begin with, but once everything kicks into high gear, it is a genuine blast. Kurt Russell and Kim Cattrall are the two standouts here as they drive this film into another level of fun. With a sweet undertone and some downright creepy and awesome sequences, this is not a film to miss. In the end, there are some slow moments that I felt could have been trimmed down, but aside from that, it is a great film. "Big Trouble in Little China" is a rare treat.
½
John Carpenter's Big Trouble in Little China is a top notch action comedy with some intense action, great performances, a fun and entertaining story and effective direction. Kurt Russell delivers yet another great performance here. The film has a highly entertaining premise, one that delivers for midnight movie fans. If you enjoy Carpenter's work, Big Trouble in Little China is a no brainer. The mix of action and comedy is well done, and John Carpenter manages to make yet another strong picture. This is a well made film, one that is sure to delight action fans looking for that pure 1980's flavor that period films had. In terms of story, the film has a well thought out script, and this is among one of Carpenter's finer films outside the horror genre. Upon its initial release, the film had a hard time finding an audience, and I think that's a great shame because, for me, John Carpenter is among my favorite directors, and with Big Trouble in Little China, he made an ambitious picture, on e that definitely captured key genre elements into one film to create an engrossing film, one that deserves much more praise. Than what it first garnered. Big Trouble in Little China may not be Carpenter's strongest directorial effort, but it's far from the worst. I really loved the film, and if you enjoy a fun, thrilling action packed film that is cheesy as much as it is eccentric, then this film is a must watch. Big Trouble in Little China is a film that is ambitious in scope, and it's one of Carpenter's most exhilarating works in the action genre. However, I still believe that Assault on Precinct 13 and Escape from New York are his finest action films. Still, for an effective popcorn thrill ride, Big Trouble in Little China delivers.
Big Trouble in Little China Quotes
Jack Burton: You people sit tight, hold the fort and keep the home fires burning. And if we're not back by dawn... call the president.
Jack Burton: When some wild-eyed, eight-foot-tall maniac grabs your neck, taps the back of your favorite head up against the barroom wall, looks you crooked in the eye, and asks you if you paid your dues; you just stare that big sucker right back in the eye, and you remember what ol' Jack Burton always says at a time like that: 'Have you paid your dues, Jack? Yes sir, the check is in the mail.'
Jack Burton: You just listen to the old Pork Chop Express here now and take his advice on a dark and stormy night when the lightning's crashin' and the thunder's rollin' and the rain's coming down in sheets thick as lead. Just remember what old Jack Burton does when the earth quakes, and the poison arrows fall from the sky, and the pillars of Heaven shake. Yeah, Jack Burton just looks that big old storm right square in the eye and he says, 'Give me your best shot, pal. I can take it.'
Egg Shen: Only a dream can kill a dream.
Discussion Forum
Discuss Big Trouble in Little China on our Movie forum!
News & Features