Blood for Dracula
(1974)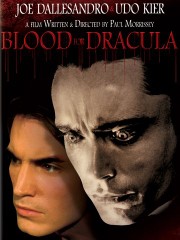 Blood for Dracula Trailers & Photos
Movie Info
Director Paul Morrissey's companion piece to "Andy Warhol's Frankenstein." Udo Kier. Mario: Joe Dallesandro. Marquis: Vittorio De Sica. Marquise: Maxime McKendry. A.k.a. "Andy Warhol's Dracula."
more
Cast
News & Interviews for Blood for Dracula
Critic Reviews for Blood for Dracula
Audience Reviews for Blood for Dracula
½
With a shortage of 'wirgins' in Romania, Count Dracula travels to Italy in search of good, pure Catholic girls to feast on, installing himself in the dilapidated mansion of an aristocrat with four unmarried daughters, ostensibly as a suitor for one of them. Since two of the daughters are slatterns and any blood but that of a virgin makes the count violently ill, the scene is set for some nice comic episodes. Although the acting is generally atrocious, "Blood for Dracula", unlike the terrible "Flesh for Frankenstein", has a number of clever touches which breathe new life into the vampire yarn, for instance the count applying make-up to disguise his sickly pallor. Dominique Darel, Silvia Dionisio and Stefania Casini, as three of the daughters, are very easy on the eye, and Roman Polanski makes a brief appearance in a scene which prefigures one in his own "Bitter Moon". Surprisingly well photographed and scored, too.
More fun from the gang that brought you Flesh for Frankenstein. This time Dracula (our pal Udo Kier), is a little particular about his meals -- he can only have the blood of female (I guess, I didn't see him attacking any young boys) "wirgins". If he drinks the blood of an experienced woman, he vomits up the blood (all charmingly detailed in Technicolor) and goes into wild convulsions and spasms. All this gets demonstrated when he travels to Italy to the home of a wealthy man (Vittorio de Sica -- how did they talk HIM into this?!) and his four daughters. Dracula tells the man that he is looking for a wife and heard his daughters were all beautiful and devout Catholics, which would prove that they were pure. Uh, not quite. See, there's this gardener (Joe Dallesandro) who's doing his best to give all the daughters a ride on his ho handle. Dracula tries to make a little time with the daughters too, but keeps getting sick because they keep lying about being pure and he keeps believing them (Fool me once, shame on you, Fool me twice...) What to do, what to do? I won't give anymore away. Let's just say that the film ends on a rather downer note for all involved.

As usual, the effects are laughable, the acting and script atrocious. There are so many accents heard that it sounds like the United Nations. We can count on Big Joe though, with his New Yawk accent to make this movie more bizarre than it already is. More (boring) sex scenes and fewer disembowelments in this than Frankenstein, but no less ridiculous. Deserves only 1 star at best, but it's one of those "so bad it's good" films, which adds more stars for entertainment bang for the buck.
Discussion Forum
Discuss Blood for Dracula on our Movie forum!
News & Features