Blue Streak
(1999)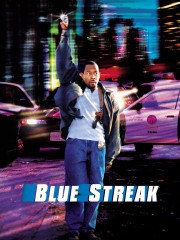 Blue Streak Trailers & Photos
Movie Info
Can a crook go straight without really trying? Jewel thief Miles Logan (Martin Lawrence) was being chased by the police after a robbery when he was forced to hide a cache of diamonds, worth $20 million, at a construction site. Despite his caution, Miles ended up behind bars anyway; after serving his time, he goes back to retrieve the stones only to discover what was being built: a police station. Miles needs to spend some time at the station to figure out what happened to his nest egg, so he sneaks in, posing as a police detective. Trouble is, he's so convincing that the cops assign him a rookie partner, Carlson (Luke Wilson), to put through training. To his surprise, Miles turns out to be a good cop, and the more he tries to find the missing diamonds, the higher he's promoted through the department, until he finds himself in line for a top spot in the detective's division. Supporting Lawrence and Wilson in Blue Streak are Dave Chappelle, William Forsythe, and Nicole Parker.
more
Cast
News & Interviews for Blue Streak
Critic Reviews for Blue Streak
Audience Reviews for Blue Streak
Melvin White
Super Reviewer
Funny comedy about a robber who hides the stolen diamond then finds that they've built a police station where he hid it. He has to pretend to be a cop to get to the diamond.
Candy Rose
Super Reviewer
Before watching "Blue Streak," I had heard that it wasn't that good of a movie, but I knew that since it has Martin in it that it had to at least have a few funny parts, and I was right.
Miles Logan (Martin Lawrence) is a jewel thief who just got out of prison. He pretends be a cop in order to try and find the jewel that could make him millions of dollars richer. But it won't be as easy as he first thought it would.

Since I had heard so many not so rave reviews about "Blue Streak," I wasn't really expecting that much out of it. There are a few parts that are flat out hilarious and the movie itself is interesting enough even when it's not funny. If you like Martin in other movies such as "Nothing To Lose" or "Big Momma's House," give "Blue Streak" a chance. NOTE: That was my Amazon review from the year 2001. I've always liked Martin.
Blue Streak Quotes
Miles Logan: Its like leaving candy around me, its not gonna be alright I'm gonna [chomping teeth] chomp it up!
Miles Logan: You don't wanna mess with him!
Tulley: Yeah! Imma rip you lips off, and kiss my ass with them shits! Imma rip yo tung out, and wipe my balls with em'!
Discussion Forum
Discuss Blue Streak on our Movie forum!
News & Features