Branded
(2012)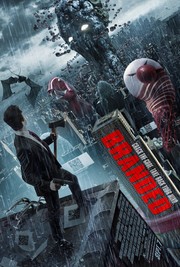 Tickets & Showtimes
Branded Trailers & Photos
Movie Info
Branded is a dark and mind-bending journey into a surreal, dystopian society where corporate brands have unleashed a monstrous global conspiracy to get inside our minds and keep the population disillusioned, dependent and passive. One man's Misha (Ed Stoppard) passion to unlock the truth behind the conspiracy will lead to an epic battle with the hidden forces that really control our world. -- (C) Official Site
more
Cast
News & Interviews for Branded
Critic Reviews for Branded
Audience Reviews for Branded
I watched the full movie just to see whether it gets better later or not. Wasted my time.
Dead Angel
Super Reviewer
½
In "Branded," Misha(Ed Stoppard) is struck by lightning as a child. So, as an adult, he can do no better than getting a job in marketing in Moscow, working for Bob(Jeffrey Tambor) who is in reality a front for the CIA. Still, Misha has done well enough for himself to help Abby(Leelee Sobieski) get her reality program off the ground.

"Branded" aims to have some very pointed and intelligent things to say about marketing and body image but manages nothing that has already covered better by the likes of Dr, Seuss and Bill Hicks. Even then, the movie feels desperately random and all over the place, as it also tries to bring up subjects like fate. So random is it that Max von Sydow feels like he is in a different movie entirely which I am not ruling out by the way. With Ed Stoppard being a complete non-entity in the lead, that leaves the always appealing Leelee Sobieski nowhere to go. At least when the movie finally gets weird, it is actually an imaginatively looking weird.
Branded Quotes
Misha Galkin: Ladies and gentlemen. The Burger is dead. The growth of brands has spiraled out of control. Never before in history has it been this difficult to record growth because there is simply not enough room in the minds of consumers to hold new desires for new products. What happened in the case of fast food has fundamentally altered the market forever. A crippling anxiety has seized consumers. They're terrified the products can hurt them. A unique opportunity now stands before you. The time has come to clear a free space in the minds of consumers, where your products can live on. Today, in order to get consumers to continue to desire computers, you have to first make them lose interest in cellphones. What you need, is to convince them that the competition's brands are deadly dangerous. Destroy the market for cellphones, and eradicate the competition. For your brands to grow, they need to learn how to attack. And I know how to teach your brands to attack.
Marketing Guru: I want to talk to you today... about love. See, I have struggled to find a way to restore the people's love of your products, but it hasn't worked out. Consumers just no longer wish to buy them. When it's over, it's over. They no longer love you. The era of fast food has passed. But I do have a proposal. Something which exceeds the limits of marketing in its traditional form. A plan which will change the world. Together, we will make fat beautiful again. But first, a question. How far are you willing to go to solve your problems?
Marketing Guru: How far are you willing to go... to change the world?
Misha Galkin: Now is the time to get the truth out.
Bob Gibbons: No no no.
Discussion Forum
Discuss Branded on our Movie forum!
News & Features