Bride of the Monster
(1955)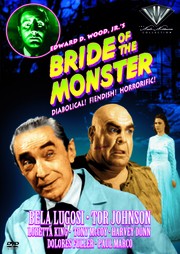 Bride of the Monster Trailers & Photos
Movie Info
To most outside observers, Bride of the Monster probably seems like a ridiculously inept horror film, and in many ways it is just that. To connoisseurs of the work of director Edward D. Wood Jr., however, it is the biggest budgeted film in his entire output, made with the resources of a normal B-movie (as opposed to his usual totally emaciated finances) and the most easily accessible of his three horror films. Bela Lugosi, in his final complete performance, portrays Dr. Eric Vornoff, a renegade Eastern European scientist with a plan to create a race of atomic supermen, giants charged with radioactivity. The problem is that the hapless hunters and other passersby at Lake Marsh, where he has set up shop with his hulking, mute assistant Lobo (Tor Johnson), whom the pair waylay, keep dying when he straps them in and switches on his atomic ray machine (which is a not-at-all disguised photographic enlarger). A dozen victims later, reporter Janet Lawson (Loretta King) goes out to investigate the disappearances -- attributed to a monster -- and falls into Vornoff's hands, with her police detective fiance Dick Craig (Tony McCoy) hot on her trail, and a devious spy (George Becwar) from Vornoff's former nation also nosing his way around the swamp and the old house. Vornoff dresses Lawson in a wedding gown and plans to irradiate her but Lobo refuses to allow it, straps Vornoff into the machine, and turns him into a radioactive giant (and into stuntman Eddie Parker, totally unconvincing in his doubling for Lugosi).
more
Cast
News & Interviews for Bride of the Monster
Critic Reviews for Bride of the Monster
Audience Reviews for Bride of the Monster
½
I feel jipped. No really, it's like I've been bamboozled here! Where is the true travesty of an Ed Wood production? I was expecting some serious miscare, intent to harm when it came to the work of the "worst director of all time" as purported by the Golden Turkey Awards of the early eighties. This, Wood's largest budgeted film, has the same capacities as any other 50's sci-fi horror film, certainly not as awful as repeatedly reported. Sure, it blatantly shows flaws in the lack of passable special effects, stock footage of a crocodile and a giant octopus from previous films of the studio, and the horrific acting that comes from shooting every scene once, whether it be a simple exchange or the climax of the film. Still, much of this felt nostalgic and easy to follow, like the horror classics that proceeded it, but there's always something just a bit off with the acting, especially the relationship between the Monster and his creator. The doctor is portrayed by the aged Bela Lugosi, by then a morphine addict and faded star compared to Boris Karloff. He brings the same insanity and chaotic charisma of his Dracula persona to the Hungarian accent tinged character of Dr. Eric Vornoff, a ruthless man attempting to breed atomic men to rule the world. He is aided by a monster, played by wrestler Tor Johnson. Tor, I am sorry, but you cannot act. I say this with utmost sympathy, because the way you portray that gentle giant is petulant and ignorant to the craft that is acting, or the species that is human. Loretta King, a backer of the film, is strikingly stiff, and the cameo by Dolores Fuller feels bland and porous. Most of the beginning is simple dialogue and this makes the rush of information near the end a bit auto-climactic. Still, it's an Ed Wood, so at least you're enjoying the hilarity involved.
If you're interested in Wood's work, you should see this one too, it has Lugosi and the giant octopus. The plot isn't great, but it's still a fun movie in Wood's "b-movie" style.
Discussion Forum
Discuss Bride of the Monster on our Movie forum!
News & Features