Brigadoon
(1954)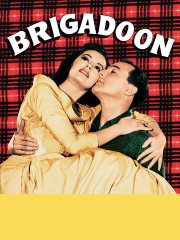 Tickets & Showtimes
Movie Info
This adaptation of the Broadway musical stars Gene Kelly as an American tourist who stumbles upon an enchanted Scottish village. Kelly falls in love with village lass Cyd Charisse. Charisse's betrothed Hugh Laing, upset by Kelly's intervention, threatens to leave Brigadoon, an act that will spell doom for its residents.
more
Cast
News & Interviews for Brigadoon
Critic Reviews for Brigadoon
Audience Reviews for Brigadoon
Mr. Lundie: They were indeed horrible destructive women. I dinna suppose you have such women in your country?

Tommy Albright: Witches?

Jeff Douglas: Oh we have 'em. We pronounce it differently.

One of my all-time favorites. Absolutely non-reality based, this musical touches on that deep-seated human desire to escape time. And what better way to escape time than to spend eternity with your one true love.

I tell you, if Kelly could sing like Robert Goulet, this would be a six-star movie. Don't misunderstand me: Kelly can sing well enough. But if you get a chance to listen to the TV version where Goulet sings "There but for You Go I," one of several beautiful songs that were left on the cutting room floor in this version, you'll get a sense of what I mean.

Cyd Charisse! Of all Kelly's dance partners through the years, Charisse is the most stylishly elegant. She's a for real dancer, baby. If I ever make it to Scotland, I'm going looking for her in this secret little town :)

Van Johson is superb as the jaded and cynical anti-romantic foil. I always feel sorry for him when he decides, at the end, not to cross the bridge. If it were me, I'd go with Kelly. Plenty of single women, Van. Just do it.

The momentary New York City scene is well-done and so appropriately paced and placed. Even for a first-time viewer, it will be clear where Kelly is headed after listening to his city girlfriend rattle on.

For die-hard romantic escapists, there are few better films boasting such great music and passion with which to leave the real world behind.
There's a fabulous moment about three quarters of the way through this film when Kelly leaves the otherworldly hamlet of Brigadoon and returns to New York. Though the exact opposite is intended, this was for me the most magical moment of the movie. In my eyes, fifties New York is as much a place of fantasy as the title village and, given my non conservative leanings, one I'd much rather spend my life in. The short glimpse Minnelli gives us of this world is thrilling, like a technicolor "Sweet Smell Of Success", set in the sort of bar Roger O. Thornhill might have frequented.

Personally speaking, a place like Brigadoon is my idea of hell, full of religious zealots who scorn anyone who suggests there may be a better life beyond it's walls. I'm on the side of Johnson, a man of logic who just wants to get back to civilisation pronto. Is the promise of a roll in the heather with Charisse really worth being stuck in this narrow minded backwater?
Despite being released in 1954, this has more in common with the more bombastic musicals of the sixties, movies which were more concerned with squeezing as many extras into the frame than focusing on a dancer's ability. Kelly is too often mobbed by a pack of irritating bekilted Scotsmen when you wish they'd just clear off and let him do his thing. The movie pines for the intimacy of Minnelli's earlier musicals. "Almost like being in love" aside, the songs aren't particularly memorable and frequently employ a cheesy faux-Scots motif.

Ignoring those grumbles, Minnelli really gives life to the movie and it's far easier on the eyes than the ears. His trademark color is really to the fore here, like an explosion in a Skittles factory. The sets look great, and the swirling mists make you wish Minnelli had tried his hand at the horror genre. Vincente Minnelli's "Dracula"? Yes please, perhaps he could terrorise the backward inhabitants of Brigadoon.
The Movie Waffler
Super Reviewer
Brigadoon Quotes
Andrew Campbell: You'll never find peace by hating, lad. It only shuts ye off more from the world. And this town is only a cursed place, if ye make it so. To the rest of us, 'tis a blessed place!
Tommy Albright: [miserable] Why do you have to *lose* something, to find out what it *really* means?
Discussion Forum
Discuss Brigadoon on our Movie forum!
News & Features