Burden of Dreams
(1982)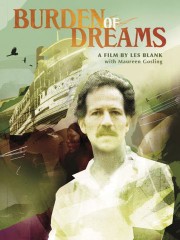 Movie Info
Documentary filmmaker Les Blank followed director Werner Herzog around during the stormy production of Herzog's Fitzcarraldo. The result was Blank's Burden of Dreams, which many reviewers found more fascinating than Herzog's effort. Lensed in Peru, Fitzcarraldo was the story of a single-minded man obsessed with the notion of introducing opera to the jungles of the Amazon. Les Blank's basic premise, that Werner Herzog became as obsessed as his central character, needs no underlining. This, however, does not prevent Blank from ladling on his thesis with a trowel at several junctures.
more
Cast
News & Interviews for Burden of Dreams
Critic Reviews for Burden of Dreams
Audience Reviews for Burden of Dreams
Chris Weber
Super Reviewer
Plenty of documentaries are made about the art of filmmaking, but very few capture the drive/lunacy it sometimes takes to realize a vision like Burden of Dreams. Les Blank's film, in my opinion, does a better job of portraying the insanity and spirit of Fitzcarraldo than the eponymous film itself. The similarities between the character Fitzcarraldo and Herzog himself are endless. Despite Blank's poetic filming of the amazon jungle, despite all of the conflicts the cast and natives encounter, and despite the documentary footage displayed, the heart of this film is the essence of cinema. This movie is about film-making and the art of it; its passion, its plight, its entirety. Herzog closes the film by stating, "It's not only my dreams, it's my belief that they are yours as well, and the only distinction between me and you is that I can articulate. And that is what poetry or literature or film-making is all about. it's as simple as that. I make films because I have not learned anything else. And I know I can do it to a certain degree. and it is my duty, because this might be the inner chronicle of what we are, and we have to articulate ourselves, otherwise we would be cows in the field." If you really let those words sink in, you truly begin to understand this man, this film, and really, cinema itself.

PS: If I ever make a tribute to the bat shit crazy Werner Herzog, I will definitely call it "Overwhelming Fornication."
Jonathan Hutchings
Super Reviewer
½
I am not fully on the Herzog train but I certainly admire his drive. And by drive, I mean his lunacy of course. I had always heard that Kinski was crazy, but just listening to Herzog's words and how he pushes on in the face of every momentous setback really showed me that Herzog may be just as mad. This film documents not only the tumultuous production of his most famous film Fitzcarraldo, but also offers a look at how Herzog channels his madness into pursuing his dreams. It drags in some areas, but overall pretty fascinating for anyone interested in the man, the myth, the legend, Werner Herzog.
Discussion Forum
Discuss Burden of Dreams on our Movie forum!
News & Features