Burnt Money
(2001)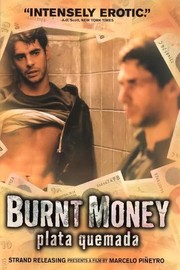 Tickets & Showtimes
Burnt Money Trailers & Photos
Movie Info
Love and betrayal complicate a robbery gone wrong in this offbeat crime thriller shot in Argentina. Angel (Eduardo Noriega) and El Nene (Leonardo Sbaraglia) are a pair of small-time criminals hired to take part in the robbery of an armored truck organized by mobsters Nando (Carlos Roffe) and Fontana (Ricardo Bartis), who working in cahoots with the driver, El Cuervo (Pablo Echarri). Angel and El Nene are also lovers, and when the robbery goes sour and Angel is shot by the police, El Nene is enraged and opens fire on the officers, turning the heist into a bloodbath. Angel and El Nene somehow escape and go into hiding, with El Nene attempting to nurse Angel back to health. As the couple tries to avoid detection in Uruguay, El Cuervo's moll, Vivi (Dolores Fonzi), tells the police of their whereabouts under threat of torture. Meanwhile, beginning to crack under cabin fever, Angel and El Nene slip into town to visit a carnival, where El Nene's head is unexpectedly turned by Giselle (Leticia Bredice), sparking murderous jealousy in Angel. Plata Quemada was adapted from a novel by Ricardo Piglia, which was inspired by a true story.
more
Cast
News & Interviews for Burnt Money
Critic Reviews for Burnt Money
Audience Reviews for Burnt Money
A movie about waiting. Doesn't sound too interesting, but when you have well written characters, their interactions become action. This is the story of a heist that goes a little awry. The gang must then hideout. This sounds easier than it is, as fingers begin to point at a setup, and a couple begin to drift apart. This whole time waiting becomes a time for the two protagonists to explore and experiment. It soon becomes obvious that money isn't the only thing at stake, but also pride and freedom, and not just the kind of freedom that involves keeping out of jail. The film, like the best crime thrillers, explodes into violence at a shocking speed. It emphasizes the realistic tone. I loved the 60's setting, and the music really captured the period. At times both frustrating and sad, it shows how humans will let their hearts take over, even if that means getting everyone killed/imprisoned and losing a lot of money in the process.
I watched Burt Money a while back, and now reviewing it, the first thing that came to mind is that the subtitles were censored. I realize that is irrelevant and random, but I have never came across that before. Plus, it was a really half-assed job. They were just sort of blurred - like nudity on television - so, they were still readable. Also, the cussing was not edited from the voicetrack. Apparently, cussing is not offensive as long as it is in Spainish. Idk. I suppose that is what I get for watching a movie online.

The actual movie is fasinating. The story is a fairly typical Gangsta Thrilla, but it is so much more than that. It really, really makes you ponder love and relationships. To some degree I think most relationships are made up of a Angel and a Nene. You cannot help but wonder as much as Angel needs to be taken care off, Nene needs to be the one taking care of somebody. You cannot help but marvel at how Angel can keep pushing him away, even when they care so much for each other. You have to wonder how many times Nene can take rejction before he moves on. That was a horrible way of explaining it, but Burnt Money, really is a gripping story exploring two lovers.

I love how ever gay-themed movie has a review along the lines of "Its like ___ but with Guys!". Seriously, Bid Eden: "Typical Rom-Com ... But with Guys!" Eating Out: "Its like American Pie ... But with Guys!", Brokeback Mountain: "Its a cowboy movie .. .But with Guys!"

And now, we have Burnt Money. "Its like Bonnie and Clyde ... but with Guys!"
Discussion Forum
Discuss Burnt Money on our Movie forum!
News & Features