Catching Hell
(2011)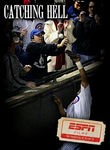 AUDIENCE SCORE
Critic Consensus: No consensus yet.
Catching Hell Trailers & Photos
Movie Info
With five outs remaining in Game 6 of the 2003 National League Championship Series, Florida Marlins second baseman Luis Castillo hit a foul ball straight for Chicago Cubs left fielder Moises Alou. But the crucial catch was not to be. Instead, a flurry of hands reached out from the stands, deflecting the ball into the crowd, and instantly one man's name, like Bill Buckner's before it, became synonymous with blowing it in a critical, high-stakes moment: Steve Bartman. In fact, dozens of errors contributed to the Cubs' loss in 2003, and the Red Sox still had one more whole game to play in the 1986 World Series after Buckner's legendary gaffe-yet these are moments that will live forever in the annals of sports infamy. Why? With Catching Hell, Academy Award (R)-winning documentarian and Tribeca alum Alex Gibney probes this topic of sports curses and scapegoats with his signature incisiveness, tracing the roots of our compulsion to focus misplaced blame for an entire team's legacy on small moments of tangible ineptitude. In the process, Gibney's comprehensive interrogation of this under-examined sports phenomenon lends insight and a bit of heroic tragedy to Bartman's own curse of undeserved notoriety. -- (C) Tribeca
more
Cast
News & Interviews for Catching Hell
Critic Reviews for Catching Hell
Audience Reviews for Catching Hell
Melvin White
Super Reviewer
Steve Bartman's story is a classic example of the dangers of having a mob mentality. 'Catching Hell' does a great job of generating sympathy for Bartman and former Red Sox first baseman, Bill Buckner. The film is interesting and entertaining, but could've been much better had it contained an interview with Bartman himself. Unfortunately for ESPN films, Bartman is a classic recluse and wouldn't budge on his 'not going to talk about it' stance. Despite this hole, 'Catching Hell' serves as a fantastic sports documentary, and is a must watch for baseball fans. Grade: B
½
"Catching Hell" is an exhaustive and even-handed documentary, centered around the infamous moment in Game 6 of the 2003 National League Championship Series between the Florida Marlins and Chicago Cubs wherein Moises Alou failed to make the play on a foul ball in the eighth inning.(In fact, the footage here is analyzed more thoroughly than the Zapruder footage ever was.) As Alou testifies later and the documentary proves, he would have made the catch without the fans going after the ball. While Steve Bartman was not the only one trying to catch it, he is the only one remembered. In their defense, the documentary concludes that it was only natural behavior(For the prosecution, Scott Turow disagrees, however) on the fans' part, as some of them are also interviewed. And maybe the Cubs would have gone on to win the game if Alou had caught the ball, but we'll never know for sure. What I did notice is that the Cubs pitcher Mark Prior had thrown 112 pitches up to that point, so maybe he was tiring. But the one thing the documentary fails to mention anything about is the Chicago White Sox(well, except for Steve Lyons' personal moment of infamy which is still really funny, by the way). Especially the part about them winning the World Series in 2005, breaking their own 88 year streak of futility which must have been like pouring lemon juice on the still festering wound of the Chicago Cubs fans.

In a more general sense, "Catching Hell" also examines the history of the word scapegoat in its mission to show how some people are unfairly blamed. As long as we're on the subject of etymology, it should be noted that a possible origin for the word fan comes from fanatic, for which we see plenty of examples here.
Discussion Forum
Discuss Catching Hell on our Movie forum!
News & Features