Chris & Don
(2007)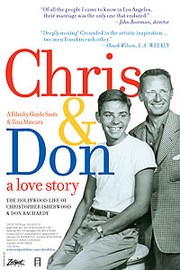 Chris & Don Trailers & Photos
Movie Info
Guido Santi and Tina Mascara's documentary Chris and Don. A Love Story traces the romantic relationship between writer Christopher Isherwood and painter Don Bachardy. The filmmakers utilize interviews with Don himself, as well as personal documents belonging to Isherwood, in order to show how the duo nurtured each other's artistic instincts while establishing a deep emotional bond that survived even after Isherwood's passing.
more
Cast
News & Interviews for Chris & Don
Critic Reviews for Chris & Don
Audience Reviews for Chris & Don
½
[font=Century Gothic]"Chris & Don: A Love Story" is a touching documentary about the decades-long relationship between writer Christopher Isherwood(1904-1986) and Don Bachardy who met in 1952 when Bachardy was only 18 and stayed together until Isherwood's death. While not always monogamous, they were more importantly open in showing their love for each other. Even while Bachardy imitated his lover's accent or mannerisms, he developed a career on his own as a portrait painter of the famous, most of whom Isherwood had introduced him to.(Bachardy grew up as a starstruck child in southern California.) As with any relationship such as this with a large age difference, I think it is only natural for there to be a large degree of cultivation, expressed in an introduction to a previously unknown world and ideas.[/font]
[font=Century Gothic][/font]
[font=Century Gothic]Most of their story is told by Bachardy who keeps active with his painting but there are also interviews with experts and notables including Leslie Caron, John Boorman and Liza Minnelli.(Isherwood's most famous work was "The Berlin Stories" which was adapted into the movie "Cabaret." Not surprisingly, Michael York reads selections from his diaries.) There is also archival footage, recreations, animation, and most especially home movies which are incredible in not only capturing the two men together, but any number of celebrities they encountered, most notably in the behind the scenes footage of "The Rose Tattoo."[/font]
½
More than anything its just a sweet story about two people terribly in love with each other. Without overstating it, the film shows that all people regardless or sex, class, race, or sexual orientation all go through the same things in relationships. I would have liked a more in depth portrait of Isherwood, but still the film is adequate.
Discussion Forum
Discuss Chris & Don on our Movie forum!
News & Features