Citadel
(2012)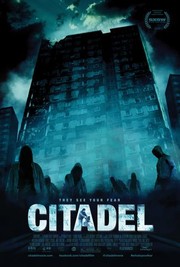 Citadel Trailers & Photos
Movie Info
Tommy Cowley lives a quiet life in a decaying apartment complex with his highly pregnant wife. The couple is attacked one day by a group of hooded young thugs, and after a shocking act of violence, Tommy is left to raise his newborn daughter alone. So shaken by the events that he's developed extreme agoraphobia, Tommy alternates days hiding out indoors in his new flat from imagined threats and intense therapy sessions aimed at bringing him back to normalcy. When the same hooded gang, seemingly intent on kidnapping his daughter, begins terrorizing his life again, he's torn between his paralyzing fear and protective parental instinct. With the help of a vigilante priest who has uncovered the genesis of this ruthless, potentially supernatural gang, Tommy must overcome his fears and venture into the heart of the abandoned tower block known as the CITADEL to save his family.
more
Cast
News & Interviews for Citadel
Critic Reviews for Citadel
Audience Reviews for Citadel
½
A few weeks ago I was listening to a podcast and one of the hosts mentioned how good this movie was and how he thought it was the best horror movie of 2012. I had never heard of it, but decided to search it out and give it a shot. The premise is pretty good and creepy. It's about an Irish guy who's pregnant wife is murdered in front of him by this group of demonic kids. The baby survives, and he is left alone to raise the baby. He lives in fear of leaving his apartment for his and the baby's safety, because the kids still lurk in the community and are coming for them. There's a couple twists and turns best left for if you watch, but overall this isn't a very good movie. There's a couple really good scenes, but the rest drags and just doesn't seem to go anywhere. It's an Irish movie, so maybe an Americanized version will get made and it will be better, because I think there is a good movie to be made out of this material. This just isn't it. The acting is just "meh", and the movie is sometimes too dark where you can't get a good enough grasp of what is going on. I'm a big horror fan, and this just didn't meet my expectations. Having said that, I can see why people would think this is good, because it has a good creepiness to it. Watch at your own risk.
½
The U.K media have a history of creating social panics and the demonizing of teenage "hoodies" is one of the current fads. This is the latest in a spate of U.K horror films to cash in on the bad press. Writer/director Foy goes one step further with his demonizing; his hooded villains are actually demons.
Barnard witnesses the brutal murder of his pregnant wife and lives as a shut in with his new-born daughter. The demons are after the child and Cosmo teams up with crazy priest Cosmo to defeat them. The location, an abandoned Glasgow tower block, lends the film a sinister vibe which it probably doesn't deserve. What starts off as an interesting take on social horror quickly develops into a second rate scare-fest.
Foy wrote this after suffering a violent attack by teens in Dublin so has a legitimate gripe but I feel this sort of ostracizing of young males does nobody any good.
The Movie Waffler
Super Reviewer
Discussion Forum
Discuss Citadel on our Movie forum!
News & Features