Colossus and the Amazon Queen
(1960)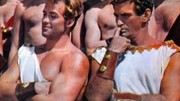 Want to See
Critic Consensus: No consensus yet.
Movie Info
Two gladiators are captured by an Amazon army, and are forced to fight against invading pirates.
more
News & Interviews for Colossus and the Amazon Queen
Critic Reviews for Colossus and the Amazon Queen
Audience Reviews for Colossus and the Amazon Queen
½
Actually quite humorous, but still suffers from bad acting and ridiculous plot. The characters are goofy and there's a lot funny bits. Campy and cheesy, it's not too hard to sit through, but the ending does get slow.
Glauco and Pirro (Fury and Taylor), a pair of slackers in ancient Greece who are are living off their reputations as veterans of the Trojan Wars, are shanghai'ed and ultimately stranded with the ship's crew and a fey Egyptian inventor (Leone) on an island ruled by Amazons. Hijinx and weirdness ensues in this land of jazz ballet and one-piece bathing suits, as Glauco finds love in the arms of the beautiful Antiope (Gray) and Pirro sets about robbing the Amazons blind and thwarting a play for power by the hardbitten warrior Melitta (Rocca).

"Colossus and the Amazon Queen" is a comedic take on the "swords and sandals" genre that will leave you more bemused than amused. It's got a charming cast (although Dorian Gray was an odd choice to play the supposedly most gorgeous Amazon ever, as she is a bit on the homely side, to be perfectly rude and blunt) and a fast-moving story the rushes from strange circumstances to romantically comedic moments to quirky slapstick scenes to spoofings of elemetns typical of this kind of movie and back again with such frenetic pace that the viewer hardly has time to realize that most of the jokes aren't terribly funny and most of the action hardly makes sense.

The film is made watchable first and foremost by a fun performance by Rod Taylor as the squirly Pirro--he has some moderately funny lines and he has good on-screen chemistry with co-star Ed Fury and with the film's villainess and Pirror's kinda-sorta love interest Melitta. The prissy Amazon queens (as opposed to to the Amazon Queen) that pass for men in the Amazon society are also great fun (and probably an element that gives this movie status as a "cult classic" in the gay community). The many spoofs of "Hercules" film mainstays are also pretty funny, with a scene whre Glacous decides to use his fantastic strength to break down a door that Pirros easily opens by tripping a lever being the best of the lot.

Much of the film, though, is more strange than funny. It features a very inappropriate jazz score, which is joined by a very long dance number which is undisguised, pure jazz ballet. (These sort of dances are requirements of the genre, but usually at least a half-hearted effort is made to disguise it as something more exotic. Not so here.) Then there's the leotards and one-piece bathing suits that seem to be the standard outfits worn under the armor of Amazons in ancient times, or when they were just hanging out. These all add up to an atmosphere that's so cheezy it ends up undermining the film in general.

If you're looking for a fantasy film to round out the line-up for a Bad Movie night, or a movie that would probably be an absolute scream if you're getting high, I think it might be worth considering. Even so, you probably shouldn't go out of your way for it. It's harmless enough filler if you see it listed in one of those DVD multipacks, but don't waste your cash if there are less than four other movies in the set. While it is never boring, it can hardly be described as good, and it teeters on the bring between a 4 and 5 rating.


Colossus and the Amazon Queen
Starring: Rod Taylor, Ed Fury, Daniella Rocca, Dorian Gray, Ignazio Leone, Gianna Maria Canale, Adriana Falcchetti, and Alberto Farnese
Director: Vittorio Sala
Steve Miller
Discussion Forum
Discuss Colossus and the Amazon Queen on our Movie forum!
News & Features