Columbus Circle
(2010)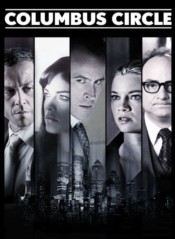 AUDIENCE SCORE
Critic Consensus: No consensus yet.
Tickets & Showtimes
Movie Info
A reclusive Manhattan heiress finds her carefully structured world beginning to crumble after her elderly neighbor dies, and a young couple moves into the vacant apartment. On her 18th birthday, Abigail Clayton (Selma Blair) received a staggering inheritance from her late father, an affluent industrialist. That same day, Abigail also escaped the probing lenses of the paparazzi by sealing herself away from the world in her massive loft. Nearly twenty years later, the only people Abigail interacts with are Klandermann (Kevin Pollak) the Concierge, and Dr. Raymond Fontaine (Beau Bridges), a trusted family friend. One day, Abigail's elderly neighbor dies under mysterious circumstances, and Homicide Detective Frank Giardello (Giovanni Ribisi) comes knocking on Abigail's door looking for answers. Concerned that the open apartment could provide a perfect perch for prying eyes, Abigail inquires about purchasing it to no avail. Shortly thereafter, Abigail spies Charlie (Jason Lee) and Lillian (Amy Smart) moving into the apartment. In the weeks that follow, Abigail begins religiously using her peephole to scrutinize her new neighbors' every move. But she can't stay locked away forever, and the moment Abigail meets Charlie and Lillian in person, the nightmare begins. ~ Jason Buchanan, Rovi
more
Cast
News & Interviews for Columbus Circle
Critic Reviews for Columbus Circle
All Critics (1) | Fresh (1) | Rotten (0) | DVD (2)
You'll likely guess every twist and turn in the plot. But I like to think these movies aren't made to surprise but rather to entertain somewhat passively.
Audience Reviews for Columbus Circle
Fear thy Neighbor

Good movie. Very sneaky movie which made it quite interesting. It had a decent story with a nice ending. A movie you watch only once is my opinion.

Abigail Clayton lives alone. Very alone. In fact, the attractive heiress has not left her Manhattan loft apartment for almost two decades. The famous daughter of a wealthy industrialist, Abigail disappeared from the prying eyes of the press and the intrusiveness of her family on her 18th birthday, the day she received her massive inheritance. During years of self-imposed isolation, Abigail has had contact with only two people-her building's Concierge, Klandermann, with whom she communicates via notes-and Dr. Raymond Fontaine, a longtime family friend and her sole confidant for most of her life. When the death of her elderly neighbor prompts NYPD Homicide Detective Frank Giardello to launch an investigation, the agoraphobic Abigail is distressed to find him outside her door, asking to question her. Having tried to acquire the dead woman's now vacant apartment to ensure her privacy, Abigail is further upset when her requests go unanswered, and new tenants Lillian and Charlie move in. Abigail anxiously monitors her new neighbors from the safety of her front door's peephole, but her well-ordered world begins to unravel when she finally encounters Lillian and Charlie face-to-face-and her sheltered existence becomes threatened in unexpected and terrifying ways.
½
In "Columbus Circle," Hilary Lonnigan(Bette Beatrice) is dead, having apparently fallen down a flight of stairs in her luxury apartment. Except New York City Police Detective Frank Giardello(Giovanni Ribisi) isn't so sure, suspecting foul play. However, he finds no help either way from her neighbor Abigail Clayton(Selma Blair) who only interacts with Klandermann(Kevin Pollak, who wrote the script with director George Gallo), the friendly concierge, in the building. Abigail has also had her eye on the other apartment for quite a while and is therefore distressed when Lillian(Amy Smart) and Charles(Jason Lee) take possession of it.

"Columbus Circle" is so old school that it actually has an opening title sequence and a character who writes letters while reminding me greatly of classic psychological thrillers starring Olivia de Havilland. As far as the present day goes, Selma Blair is a pretty good replacement with her side long glances while Giovanni Ribisi proves that he can play a normal character(who probably still has some literal skeletons in his closet) for a change. But with any lazy homage to old movies, the story turns out to be very predictable with more than its share of plot holes.(Who cleans Abigail's apartment, by the way?) While I agree there is no such thing as a criminal mastermind, it would be nice to see some professional pride from a movie's villains. So, as you can see, there is a lot of sludge to get through before the movie's dandy kicker of an ending.
Discussion Forum
Discuss Columbus Circle on our Movie forum!
News & Features