Compliance
(2012)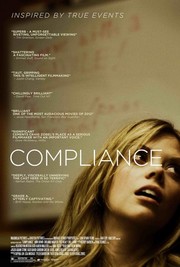 TOMATOMETER
AUDIENCE SCORE
Critic Consensus: Anchored by smart, sensitive direction and strong performances, Complicance is a ripped-from-the-headlines thriller that's equal parts gripping and disturbing.
Compliance Trailers & Photos
Movie Info
Becky and Sandra aren't the best of friends. Sandra is a middle-aged manager at a fast-food restaurant; Becky is a teenaged counter girl who really needs the job. One stressful day (too many customers and too little bacon), a police officer calls, accusing Becky of stealing money from a customer's purse, which she vehemently denies. Sandra, overwhelmed by her managerial responsibilities, complies with the officer's orders to detain Becky. This choice begins a nightmare that tragically blurs the lines between expedience and prudence, legality and reason. -- (C) Magnolia
more
Cast
News & Interviews for Compliance
Critic Reviews for Compliance
Audience Reviews for Compliance
Good film, but scary to think it is based on real events.
Trying to put myself in the place of the manager who is phoned by the police and convinced that her employee stole from a customers purse, I am trying to think at what point I personally would have said that's enough. It certainly wouldn't have got to the strip search, I can safely say that much. You would also have to be questioning if the customer is actually telling the truth in the first place, and for that matter, who is this customer.
Staggeringly naive, but I can understand maybe someone being fooled - but at what point would you say no, I will not he doing that, come down yourself?!
I can't even get my head around leaving a half naked young girl with male employees and then your boyfriend while you go and serve customers.
Certainly an interesting and disturbing film and maybe a cautionary tale for the more gullible of us.
A fast food manager receives a call from the police claiming that one her employees is guilty of theft and that the manager should subject her to more and more brutal searches.
With stellar, understated performances, Compliance is difficult to watch unless one can maintain one's disbelief. I know I'm not supposed to laugh at this film, but I did because the characters' gullibility defies believability. The opening credits triumph that this was based on actual events, and if I hadn't looked up the real case beforehand, I would not have believed it were possible. Heavy-handed in its anti-authority message, the film does well when it shows us what happened, but by the end of it, I still can't understand why it happened.
Overall, we should all watch this film and be able to laugh at it, but alas, the world remains unhumorous.
Jim Hunter
Super Reviewer
Compliance Quotes
Marti: Van was a lucky man.
Van: I did a bad thing...
Marti: You don't have a customer... I want you to clean, clean, clean!
Sandra: I'll do... everything that you need.
Discussion Forum
Discuss Compliance on our Movie forum!
News & Features