Conspirators of Pleasure
(1997)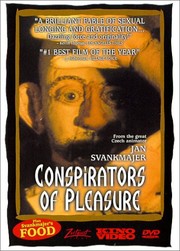 Tickets & Showtimes
Movie Info
Czech animator Jan Svankmajer gained acclaim and notoriety for his eerie, nightmarish stop-motion animated pieces fashioned out of discarded dolls, battered marionettes, and pieces of junk. His films such as Alice and Faust delved headlong into the subconscious and dredged up images that were imbued not only with a woozy sense of dread but with a savage sense of wit. Svankmajer's third feature -- and his first (mostly) live-action film -- is an absurdist look at some very weird sexual adventurers. Peony (Petr Meissel) is a nebbish bachelor with a passion for porno mags and poultry. At the film's outset, he pulls a live chicken from his wardrobe and has his neighbor, Mrs. Loubalova (Gabriela Wilhelmova), cut its throat -- which she does with a fair amount of relish and glee. Using the head as a model, he fashions a papier-mâché chicken mask -- made from old pornography -- and an accompanying chicken suit. Later, in a bizarre backwater ritual, Peony dons his chicken costume and taunts and crushes an effigy of his neighbor. Mrs. Loubalova apparently harbors similar bloodthirsty fantasies for Peony -- in a similarly weird ritual, set in an abandoned church, she whips and then drowns a straw effigy of her fellow apartment tenant. Surrounding this unlikely romance of sorts are the onanistic obsessions of another quartet of very kinky characters. Mrs. Malkova (Barbora Hrzanova), the neighborhood postwoman, has a penchant for balling up pieces of bread for unlikely purposes. Kula (Jiri Labus), the guy who sells Peony his nudie mags, has created an elaborate autoerotic device connected to his TV, complete with robot controls and rubber hands, designed to, um, augment his enjoyment of the news -- especially when read by Mrs. Beltinska (Anna Wetlinska). Mrs. Beltinska, in turn, reaches the height of on-the-air bliss by having her toes sucked by a pair of carp hidden beneath her desk. And finally her husband, a police inspector, is much more interested in scrubbing his naked self with rollers spiked with nails or funnels filled with fur than in fulfilling his marital duties. ~ Jonathan Crow, Rovi
more
Cast
News & Interviews for Conspirators of Pleasure
Critic Reviews for Conspirators of Pleasure
Audience Reviews for Conspirators of Pleasure
This movie probably deserves a higher rating, but shit: this is not for me.
It's pretty obscene in a harmless way, but come to think of it -sick as it is- there are probably people walking this earth getting of on stuff like this. I mean hey, as long as there are people that pay money for used socks and underwear (this is the most "civilized" example that I can come up with), this doesn't seem very far fetched.
Anywayz, Sigmund Freud is going to have a field day with this one ;)


Conspirators of a Pleasure is a film about private obsessions. The film begins observing the behavior of six people as each is in their own little world gathering and constructing their own desires. There is no dialogue to the film. The theme of the whole film is to keep us watching each character's eccentric behavior build until the nature of the obsession is revealed. Showcasing even more of Jan Svankmajer's great stop-motion animation and a very weird charm.

If everyone is a deviant, then nobody is.

El Hombre Invisible
Super Reviewer
Discussion Forum
Discuss Conspirators of Pleasure on our Movie forum!
News & Features