Copying Beethoven, (Klang der Stille)
(2006)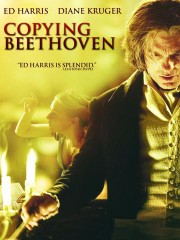 Tickets & Showtimes
Copying Beethoven, (Klang der Stille) Trailers & Photos
Movie Info
When a young Vienna Music Conservatory student and aspiring composer accepts a job as a copyist for Ludwig von Beethoven, she soon finds her destiny forever interlinked with that of the legendary classical musician in director Agnieszka Holland's romantic period drama. Beethoven (Ed Harris)'s "Ninth Symphony" is about to make its historical debut, but Beethoven's publisher Herr Schlemmer is dying of cancer. Now in desperate need of a copyist to complete the score, the ailing Schlemmer enlists the aid of ambitious student Anna Holz (Diane Kruger); who readily accepts the job despite an explicit warning that the composer is a callous wretch. As Anna begins the arduous process of copying Beethoven's career-defining work, her soul-stirring kindness causes the composer to view their collaboration as a blessing that will enable him to produce some of the most sublime music ever created. When Anna works up the courage to show Beethoven some of her own work, however, his thoughtless derision of the composition causes his sensitive assistant to abandon their current collaboration. Subsequently determined to flee Vienna and marry her devoted paramour Martin, Anna is quickly tracked down by Beethoven and forced to choose between love and duty. ~ Jason Buchanan, Rovi
more
Cast
News & Interviews for Copying Beethoven, (Klang der Stille)
Critic Reviews for Copying Beethoven, (Klang der Stille)
Audience Reviews for Copying Beethoven, (Klang der Stille)
I was lucky enough to watch this movie way back in the summer (it just recently became available for review on Flixster.) The cut I saw was allegedly a "rough-cut" that would require some more editing and tinkering-with (depending on audience input and feedback.) I must say, though, that the version we all saw way back in June seemed very much complete and painted a splendid picture of a film that was well-developed, cast and directed. Ed Harris gave a brilliant performance as the troubled composer.

The film may be seen as rehash (how many Beethoven films can there be?, etc.), but Harris' performance alone is what solidifies this movie as and makes it stand out from, say, Immortal Beloved; in which Gary Oldham's portrayal was a bit more off-putting and creepy. Diane Kruger also gives a noteworthy performance as Beethoven's composing assistant. She brings a resilience to a character that shouldn't even exist, given the sexist divisions and gender role issues that existed in that era.

The film is shot beautifully and its cinematography is brilliant. The art direction gushes with lush sets and decor and the score is very much appropriate for a movie in which a score should not overpower the music that its subject matter is directly dealing with (in this case Beethoven's own compositions.) Ed Harris definitely deserves an Oscar nomination for Best Actor (although it probably won't happen.) Definitely catch it if you can. It's worth searching for it.
½
I can't give this one star. What a tremendous story! But what horrific casting. Seriously, the person in charge of casting should be drawn and quartered -- and I wouldn't even wish that on Mel Gibson. If only John Cusack had been at the meeting, with some kind of pen or a blunt instrument, where they picked the casting director, things could have been so much different. I don't want to do a blow-by-blow with this, but I want to suggest one "remake" change, for the future. If Ben Kingsley is still available when they do this again -- and because it's a great story, they should --, I want him cast as Wenzel Schlemmer. This "actor" is the most egregiously cloying of the bunch. If Kingsley can't do it, I vote for Tom Hulce. For either one, the Oscar for best supporting actor would be assured, and you can't beat the symmetry -- my own strange notion of symmetry -- of this idea. Flixsters, this one is a definite pass until they get it right.
Discussion Forum
Discuss Copying Beethoven, (Klang der Stille) on our Movie forum!
News & Features