Croc
(2007)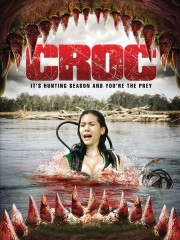 AUDIENCE SCORE
Critic Consensus: No consensus yet.
Tickets & Showtimes
Movie Info
An enormous crocodile terrorizes a Thai beach resort in this tale of terror in the water starring Michael Madsen. As the local begin to mysteriously disappear and various appendages are found floating in the swamps, the locals offer $5000 to anyone able to capture the beast responsible for all the bloodshed. While local crocodile hunter Hawkins (Madsen) is ready and willing to track down the man-eating monster, he begins to suspect that he's dealing with a more powerful force than he ever imagined as the body count continues to rise, and the blood-curdling screams of the locals echo eerily through the treacherous swamps.
more
Cast
News & Interviews for Croc
Critic Reviews for Croc
All Critics (1) | Fresh (0) | Rotten (1) | DVD (1)
Audience Reviews for Croc
½
A mixture of stock footage, animatronics, real crocs and a few CG shots combine to "bring life" to this hokey but cheerful killer croc movie. Madsen keeps himself in the background until the end, and puts in more effort than the role requires. The land developer subplot is used well and quickly disposed of for the finale. Some people just can't capture the pain of being eaten by a crocodile. The setting allows for some nice scenery. Perhaps better than you'd expect.
For a lot of people, the famously awful Sc-Fi Channel feature films are a hilarious way to spend an afternoon, but I have never found anything remotely funny about any of them. "Croc" is no exception.

This film is just bad, made cheaply to earn a quick buck and faint praise from the handful of people who will relish its ineptitude, and in my book there's nothing funny about that. This is clearly a copy of "Jaws", but to even mention that film in connection with this one is an absolute outrage.

The attack scenes are poorly staged and un uneasy mix of CGI creatures, stock footage of real crocodiles and gallons of fake blood to cover up all the poor make-up effects. Director Stewart Raffill used to make bad-to-mediocre theatrical films, but this represents his farther fall from grace yet. This is a manufactured product more than a real film, and quite frankly that's distasteful. The makes don't even focus on the killer animal for a great deal of the running time, as a lot of extraneous subplots are thrown in to pad things out.

We get all of the usual elements: a romance, a greedy land developer and evil tax collectors. None of them really have a place in this film. And then, of course, Michael Madsen shows up to collect a paycheck in the Robert Shaw role, and it's clear that his prime is long past him. Nothing, not even money, can justify his appearance in "Croc". This is just shoddy filmmaking, and frankly, there's nothing funny about it.
Timothy Sanders
Discussion Forum
Discuss Croc on our Movie forum!
News & Features