Cup of My Blood
(2005)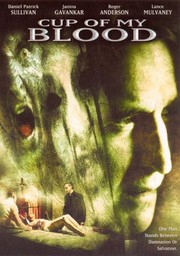 AUDIENCE SCORE
Critic Consensus: No consensus yet.
Tickets & Showtimes
Cup of My Blood Trailers & Photos
Movie Info
When a modern-day pornographer comes into possession of the Holy Grail, a non-stop attack by the forces of the damned threatens to unleash the Apocalypse in this religious-themed horror film from first-time filmmaker Lance Catania. Jack Fender (Daniel Patrick Sullivan) is a photographer who would rather be capturing tasteful nudes on film rather than the shooting the smut that pays the bills. When Jack inadvertently acquires one of the most sought after holy relics in the history of Christianity, his quest for answers lead him to the darkest corners of human existence.
more
Cast
News & Interviews for Cup of My Blood
Critic Reviews for Cup of My Blood
All Critics (1) | Fresh (1) | Rotten (0) | DVD (1)
If you like religious-wrought horror that's just a tad over the top, you could do a lot worse at the video store.
Audience Reviews for Cup of My Blood
Mad Martigan
½
Predictable, tedious and preachy, Cup of My Blood is the tale of a porn photographer who comes into possession of the holy grail. He's the pre-ordained Chosen Protector, so of course he's surrounded by all sorts of evil people and demons who know he'll get the thing and, of course, know beforehand what will happen, since it's all been written as prophesy. I suppose that suits this flick, since it's extremely easy to figure out everything that happens in this pretentious claptrap long before it actually comes to pass on the screen.

The acting is entirely sub-par, with a wooden leading man who looks a bit like Liam Neeson but certainly can't act as well. There is a fair amount of female nudity and some simulated sex, but we're practically clubbed over the head with the admonition that all of this is bad. Rule one for this flick is that if anyone gets naked, it's because they're a demon and they want the grail's protector dead and the grail for themselves. The only friends who aren't on the side of the devil are two IT people who run the porn website, Scooter and Nibbles (no, really, those are their names). Scooter and Nibbles are using their porn website (2ndCuming.com) as a front; there;'s a secret link in the form of a hidden crucifix in one photo that leads to a secret site on which those who know that Christ is about to return are networking. They're looking for signs and, importantly, conspiracies. There are several right-wing paranoias fitted into this movie. For example, gun exchange programs are fronts for Satan; all those unlicensed weapons being turned in are being used to arm the army of evil in preparation for Armageddon! That's early in the film, though. It gets more preposterous and preachier from there.

By the time I finished watching this stinker, I was alternately yawning, laughing, and questioning my own sanity for getting all the way through it. Those who agree with its message may like it better than I did.

I should also note that the DVD version of the film that I watched didn't survive transfer very well. The left and right sides of the frame were severely cropped, so the entire film seemed to be shot in close-up. This began with the title, which in the chopped-down DVD version was "Up of My Bloo," the C and P having been lopped off the screen. I think they should re-release the film under that title; it makes about as much sense as the movie itself.

This one is "Left Behind" meets "Indiana Jones" meets "The Artifact." It doesn't, however, meet any reasonable criteria that would make it a worthwhile horror film.
I liked this one. It was weird. There was this crazy fight for a cup that might be the holy grail, or everyone's crazy...
Discussion Forum
Discuss Cup of My Blood on our Movie forum!
News & Features