D'Agostino
(2012)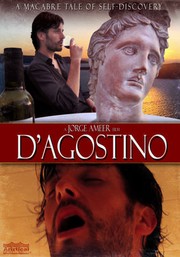 AUDIENCE SCORE
Critic Consensus: No consensus yet.
Tickets & Showtimes
Movie Info
An unexpected inheritance sets a bored Greek executive down a twisted path of self discovery. Allan Dawson has a high-powered job and a pretty fiancée, but inside his soul is screaming out for something more. Upon learning he has inherited property in Santorini, Greece, Allan seizes the opportunity to make a fresh start in life. Shortly after Allan arrives at his picturesque estate, however, he encounters a clone named D'agostino. Together, these unlikely companions experience a bizarre awakening while shattering sexual taboos, and exploring the boundaries of their master/servant relationship.
more
News & Interviews for D'Agostino
Critic Reviews for D'Agostino
All Critics (1) | Top Critics (1) | Fresh (0) | Rotten (0)
Audience Reviews for D'Agostino
Caesar Mendez
Super Reviewer
D'Agostino is a film where I would rate it zero stars, but this rating system will not grant me the right to do so. A half-star rating is far too generous for this abominable film from Jorge Ameer who grow to loathe more and more with each new film I encounter of his. This is also one of the miserable film-watching experiences I've had in years to the point of where I almost didn't make it through to the end because of how utterly miserable it was. Even my DVD player became self-aware and began to reject it like a bad kidney (Hell, it actually closed by itself shortly before I even put the DVD in. It already knew what was coming).

The film is about an annoying, narcissistic prick who inherits property in Greece and travels there to check out the property and have a little vacation from his busy work schedule and annoying girlfriend. While staying in the house, he discovers a man living in his home who cannot speak and his name is D'Agostino, who is also a clone who escaped from a cargo ship. The man treats D'Agostino like a dog at first and tries to make him sort of a house pet, followed by a sex slave for his twisted desires. However, things begin to grow more sinister with each passing day and the man's choices come back to haunt him in regards to D'Agostino.

What could have been a twisted and interesting film about the psychology of human sexuality and morals, instead falls apart right from the start and becomes a miserable crawl to the end...and this fucking piece of shit is more than 2 hours in length (It's not 117 minutes as claimed. It's actually longer). Most of the film is comprised of the annoying main character treating D'Agostino like a dog and trying to make him a house pet which becomes incredibly tedious as virtually nothing happens through the entire film.

I love long and talkative films that are all about subtlety and all the little details that would bore most people to tears like The Isle and The Loneliest Planet, but this film had absolutely nothing to do with subtlety, little details, proper writing, good acting, or anything for the matter. Even with beautiful shots of Greece and the fact this film was filmed with a camera that makes it look like a cinema quality flick, I was too overwhelmed by the film's stunning awfulness to award it any sort of merit.

The story is shit, the sex scenes are awful, the acting and dialogue are atrocious, there are plot holes, a horrible ending, and it's tedious as fuck to make the package all that much more miserable. This is set to go down as one of the very worst films I've ever seen and is currently fighting with The Singing Forest as the worst Jorge Ameer film yet. ZERO STARS, ZERO STARS, ZERO MOTHERFUCKING STARS!
Discussion Forum
Discuss D'Agostino on our Movie forum!
News & Features