The Day of the Locust
(1975)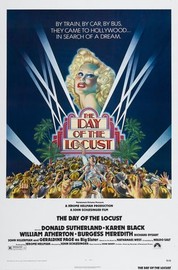 Tickets & Showtimes
The Day of the Locust Trailers & Photos
Movie Info
One of the most grim assessments of Hollywood life during the '30s, this cynical drama is adapted from a novel by Nathanael West and tells the tale of a talentless beauty's desperate struggle to become a star. The story, unfolding via flashback, is told from the viewpoint of a noted art director and features a number of ugly incidents from behind-the-scenes Tinseltown.
more
Cast
News & Interviews for The Day of the Locust
Critic Reviews for The Day of the Locust
Audience Reviews for The Day of the Locust
½
An often surreal but always intriguing morality tale. This film has it's sights set mostly on "Hollywood", with a few "pop shots" at organized religion (which if you think about it is not so different from Hollywood).

Sure the characters are "over the top" and "steretypical", a virtual cornucopia of Hollywood has beens and hopefuls. But that's kind of the point. It's meant to be a sort of snap-shot of 1930's-40's Hollywood and all that it entailed.

The acting is solid with the casting spot on. Especially Donald Sutherlands performance as Homer Simpson and the seemingly under appreciated William Atherton as Todd Hackett. The cinematography is brilliant, ranging from glorious to bleak but always captivating.

The last 15-20 minutes are genius!
Wow, what an ugly film. Presumably, this cynical tale of Hollywood wannabes was green-lit following the success of "Chinatown." Not one likable character in the cast -- even the lead Tod (William Atherton), with his shallow love for Faye (Karen Black), is hard to embrace. Donald Sutherland gives a remarkable performance as repressed neurotic Homer Simpson (now why does that name sound familiar?), but should have entered the story much earlier. Burgess Meredith? Wonderful, but wasted in a minor part.

As if the other depravities weren't enough, there's even a repulsive cockfighting scene needlessly thrown into the mix. Meanwhile, the surreal climax is like an entirely different movie (shades of "The Wall"?) and goes way, way over the top.

Interesting to see the often villainous Atherton as an innocent, William Castle in a cameo as a fictional director and the pubescent Jackie Earle Haley as an insufferable child-star brat.
Discussion Forum
Discuss The Day of the Locust on our Movie forum!
News & Features