The Day the Earth Stood Still
(2008)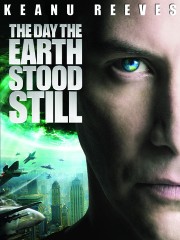 TOMATOMETER
AUDIENCE SCORE
Critic Consensus: Heavy on special effects, but without a coherent story at its base, The Day the Earth Stood Still is subpar re-imagining of the 1951 science-fiction classic.
The Day the Earth Stood Still Trailers & Photos
Movie Info
In this contemporary reinvention of the 1951 science fiction classic, renowned scientist Dr. Helen Benson finds herself face to face with an alien called Klaatu, who travels across the universe to warn of an impending global crisis. When forces beyond Helen's control treat the extraterrestrial as a hostile and deny his request to address the world's leaders, she and her estranged stepson Jacob quickly discover the deadly ramifications of Klaatu's claim that he is "a friend to the Earth." Now Helen must find a way to convince the entity who was sent to destroy us that mankind is worth saving--but it may be too late. The process has begun.
more
Cast
News & Interviews for The Day the Earth Stood Still
Critic Reviews for The Day the Earth Stood Still
Audience Reviews for The Day the Earth Stood Still
MisterYoda ?
Super Reviewer
½
"Change his mind. Not with reason, but with yourself."

A mysterious alien presence arrives on earth, causing chaos, confusion, and many questions. Primarily, why is it here? Is this humanity's hour of judgment, or salvation?

I really don't know how I found The Day The Earth Stood Still to be bearable enough to finish. It's clunky, often boring, and heavy-handed in a way that good science fiction never is. The worst flaws are the script and dialogue, which are simply terrible. Poor Jennifer Connelly often looks like she can't believe the words that are coming out of her mouth, and the other actors don't have it any better. I like Keanu Reaves, but here he is somehow still too stiff and emotionless for a character that's SUPPOSED to be stiff and emotionless.

Dull subplots focusing on annoying characters somehow make an already boring movie even worse. There's really not even an memorable action or special effects scenes to make things interesting, even briefly. There's no emotion here, no excitement, nothing to engage the viewer. The Day the Earth Stood Still is just an empty experience.
The Day the Earth Stood Still Quotes
Professor Barnhardt: It's only at the precipice that we change.
Helen Benson: National security? Well that just means whatever you want it to mean.
Klaatu: Your planet?
Regina Jackson: Yes, this is our planet.
Klaatu: No, it is not.
Helen Benson: Have you done your homework?
Jacob Benson: School's canceled on account of the aliens.
Discussion Forum
Discuss The Day the Earth Stood Still on our Movie forum!
News & Features