A Day Without a Mexican
(2004)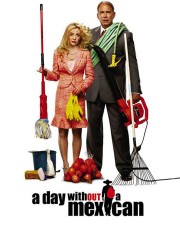 Tickets & Showtimes
A Day Without a Mexican Trailers & Photos
Movie Info
Marking the directorial debut of Sergio Arau, son of Like Water for Chocolate director Alfonso Arau, A Day Without a Mexican ponders the potentially catastrophic results that would occur if California-based Mexicans, who make up over a third of the state's population, were to suddenly disappear. The mockumentary postulates that the lack of Latino gardeners, nannies, cooks, policeman, maids, teachers, farm workers, construction crews, entertainers, athletes, and the world's largest growing consumer market would create a social, political, and economic disaster, leaving the concept of the "California Dream" in shambles. A Day Without a Mexican proved controversial even before its release: promotional billboards reading "On May 14th, there will be no Mexicans in California" caused a stir with immigrant rights groups, who believed the sign was a statement against the Latino community. The film stars Yareli Arizmendi, John Getz, Maureen Flannigan, and Muse Watson.
more
Cast
News & Interviews for A Day Without a Mexican
Critic Reviews for A Day Without a Mexican
Audience Reviews for A Day Without a Mexican
Like a Saturday Night Live skit that plays for 2 hours. I'm glad that Sergio Arau shows how if Mexicans were to dissapear all the low level jobs would have to be done by white people. Thatnks for setting back any progress Mexican Americans have made with your unfunny movie.
½
[font=Century Gothic]"A Day without a Mexican" is a film about a mysterious fog enveloping the state of California. Then, the entire Hispanic population disappears without a trace. Needless to say, this causes quite the disruption on the personal, economic and cultural levels. Even the border patrol agents are hurt.[/font]
[font=Century Gothic][/font]
[font=Century Gothic]"A Day without a Mexican" is not bad and well-intentioned with some good points on identity and racism. It raises the question about whether or not somebody can truly be illegal. But pedestrian writing and amateurish acting pretty much lower the whole enterprise to the level of a public service announcement. [/font]
Discussion Forum
Discuss A Day Without a Mexican on our Movie forum!
News & Features