Death of a Gunfighter
(1969)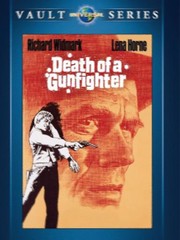 Want to See
Critic Consensus: No consensus yet.
Movie Info
Frank Patch (Richard Widmark) is the town marshall who finds opposition from the town council. Fearing some East-coast investors may stop their proposed cash flow into the town, the council plans to oust the old-school lawman, and Frank takes comfort in the arms of the town madame Claire (Lena Horne). Since Frank refuses to turn in his badge voluntarily, the council devises other ways to have him vacate the position. Lester Locke (Carroll O'Conner) is the testy saloon owner who makes trouble for the marshall. Lou Trinidad (John Saxon) is the sheriff and probably Frank's only friend in town besides Claire. After a dozen killings by the law-abiding marshall, the council is willing to break the law to insure the influx of money into the dying western town in this routine sagebrush saga. Horne delivers the tune "Sweet Apple Wine" during the opening and closing credits.
more
Cast
News & Interviews for Death of a Gunfighter
Critic Reviews for Death of a Gunfighter
Audience Reviews for Death of a Gunfighter
monsieur rick
I've got a bad habit of losing my temper

A town informs their long time, old school sheriff that they have decided to modernize and his services are no longer required. The sheriff feels that there's something fishy going on for him to be mysteriously let go; however, he now has time to settle down and raise a family. Will the sheriff go quietly into the night or will he try to uncover the rationale for the town's decision?

"I am not keeping you from anything important, Frank, like crawling under my sheets with my wife am I?"

Donald Siegel, director of Escape from Alcatraz, Dirty Harry, Two Mules for Sister Sarah, The Beguiled, No Time for Flowers, and The Verdict, delivers Death of a Gunfighter. The storyline for this picture was interesting with a unique spin on a common premise. The action scenes were average and the acting was okay. The cast includes Richard Widmark, Lena Horne, Carroll O'Connor, and Jacqueline Scott.

"You're a bad liar. If you want to succeed in this world, you've got to be a good liar."

My wife DVR'd this film due to its plot and our love affair with westerns. The premise was solid but the film was a bit stale. The execution did not live up to the film's potential and Widmark didn't have the charisma of a Clint Eastwood or Lee Van Cleef. Overall, this is above average but nothing special.

"What's the price of your cheapest funeral?"

Grade: C+
Kevin Robbins
The strange hybrid of directing styles is the only aspect of this otherwise routine Western that holds any real interest.
Discussion Forum
Discuss Death of a Gunfighter on our Movie forum!
News & Features