Deep Rising
(1998)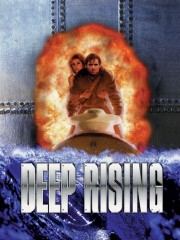 Tickets & Showtimes
Deep Rising Trailers & Photos
Movie Info
Stephen Somers wrote and directed this $50 million science-fiction action-thriller. Set in the South China Sea, the story has been described as a cross between The Poseidon Adventure, Alien, and Die Hard. On the maiden voyage of the luxury liner Argonautica, pickpocket Trillian (Famke Janssen) is caught stealing jewels and locked up. After the ship's communication system is infected with a virus, the ship collides with a massive underwater object. When John Finnegan (Treat Williams) and others board the Argonautica, they are surrounded by death. Survivors Trillian, builder Simon Canton (Anthony Heald), and others talk of sea monsters, but Hanover (Wes Studi) doesn't believe them -- until the fanged, squid-like creature (designed by Rob Bottin) extends its huge tentacles and makes its presence known to all. Filmed in Vancouver and the northern Pacific under the working title Tentacles.
more
Cast
News & Interviews for Deep Rising
Critic Reviews for Deep Rising
All Critics (48) | Top Critics (13) | Fresh (9) | Rotten (20) | DVD (8)
Globe and Mail
Top Critic
Chicago Sun-Times
Top Critic
For a movie with so much story and set up, it's shocking how well "Deep Rising" comes together.
The rest of the movie is a predictable guns 'n' beasts gorefest that wants to be equal parts Aliens, Titanic, and Anaconda but winds up being all parts crap.
Audience Reviews for Deep Rising
Excellent monster mash and over the top riot of sea faring proportions which borrows from afew films but keep its tongue firmly in its cheek as a no bars hold B-movie.

The way the plot unravels is much like 'Aliens' with a mish mash crew of cut throat mercs and civilians being surprised and taken down one by one by an unexplained sea beastie, the casting is unique and perfect for the posse of renegades who each have their own quirks and style which, again, does remind you of the classic marines from 'Aliens'.

Its a very silly and obvious layout but Sommers doesn't try to hide this fact and goes all out with nice scares and some nasty gut churning makeup and cgi for the victims. The cgi does now look pretty dated and there is some really nasty blue screen effects but at the time this felt so good and really impressed, I saw the film on release at the cinema back in 1998 and I enjoyed then as I do now.

Your typical popcorn flick with nothing to worry about in terms of depth, probably one of the best ensemble casts for awhile in a B-movie and a really terrific creature all add to a fun time. The text at the start gets you thinking about the deep for real and the ending is great stuff haha why no sequel??
Slime from the endless abyss (this time with teeth, ouch!) arises from the depths and must be stopped! Who among our plucky tongue-in-mercenary-cheek cast will survive this Poseidon Adventure meets Predator marriage made in hell?!? Fun goo to step into.
Deep Rising Quotes
T-Ray Jones: Mamooli you bloody pervert get your mind outt'a the gutter!
Simon Canton: I maybe a crook but I'm not a savage!
John Finnegan: Now what?!
Joey Pantucci: Can you just get asthma? Or do you have to be born with it?
Discussion Forum
Discuss Deep Rising on our Movie forum!
News & Features