The Devil and Max Devlin
(1981)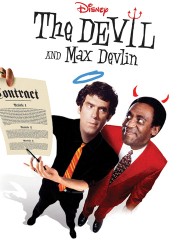 The Devil and Max Devlin Trailers & Photos
Movie Info
The title character, a nasty landlord (Elliott Gould), is killed in a car accident and descends into hell. There he meets the Devil (Bill Cosby), who promises him his life back if he can find three people willing to sell their souls in three months.
more
Cast
News & Interviews for The Devil and Max Devlin
Critic Reviews for The Devil and Max Devlin
Audience Reviews for The Devil and Max Devlin
THE first movie my family ever rented. You know back in the day when you had to rent the VCR too. It came in a big bulky plastic case like a musical instrument. The kind that had the top that popped up so you had to slide the tape in and press the whole thing back down. Wow.
½
"The Devil and Max Devlin" is a forgotten relic of a bygone era, and it's one film that really should have stayed lost. It comes from a time when Disney was certainly trying to change their image with more adult fare, but for a "PG" rated film from the Mouse House, this is shocking and tasteless. It's also bland and terribly unfunny, but that really is the least of its problems.
It casts the notoriously squeaky-clean Bill Cosby as a disciple of Hell, and perhaps even worse, it gives him nothing to do. It's basically a supporting role, and the star is given nothing funny to do or say. Apparently, he was only cast in the role for shock value. And there is plenty here that is shocking or surprising. The subject matter is quite disturbing, especially for a film of this nature.
The story is essentially Elliott Gould corrupting innocent people, including an eleven-year-old boy, and getting them to sell their soul to the Devil in order to take his place in Hell. Adam Rich, the boy, is seen wandering a carnival alone until Gould befriends him and takes him on rides. It's the film's creepiest, most unsettling moment. And naturally, the boy's mother agrees to marry this stranger who picks up her son at a carnival. But I guess that's not as bad as his new stepfather getting his stepson to sign a contract damning him to eternal Hellfire. And this is an alleged family comedy.
"The Devil and Max Devlin" is an embarrassing misstep for the beloved studio. What were they thinking?
Timothy Sanders
Discussion Forum
Discuss The Devil and Max Devlin on our Movie forum!
News & Features