Diary of a Cannibal
(2007)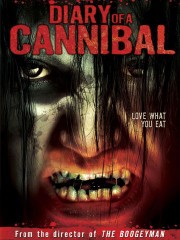 AUDIENCE SCORE
Critic Consensus: No consensus yet.
Diary of a Cannibal Trailers & Photos
Movie Info
Inspired by gruesome true events that made headlines around the world, Boogeyman director Ulli Lommel's dark tale of transgressive consumption details the encounter of a young girl and boy whose internet friendship leads to a grim pact in which the boy agrees to allow the girl to kill and eat him in order to prove how deep her love truly runs.
more
Watch it now
News & Interviews for Diary of a Cannibal
Critic Reviews for Diary of a Cannibal
There are no critic reviews yet for Diary of a Cannibal. Keep checking Rotten Tomatoes for updates!
Audience Reviews for Diary of a Cannibal
MisterYoda ?
Super Reviewer
Lommel's horror tends to run outside genre 'norms' and that tends to make it both surprising and more inaccessible.

You can see that clearly in the execution of Cannibal, unfortunately in this case the result is just a bad, bad movie.
John Wagner
"Diary of a Cannibal" goes leagues below the cinematic dead zone. It doesn't even manage to justify why it exists in all of its 81 minutes, let alone accomplish the task of telling a story in any useful sense.

It's rooted in the true story of an individual who posted online, looking for someone to meet, murder and cannibalize. I won't complain about the lurid hook of the premise--any premise can be handled well or handled poorly. The Meadow Mountain Massacre is a very interesting historical event, and they made a lousy movie out of it [getting to that next]. The founding of Facebook at first seems like dry subject matter, and yet David Fincher used it for an excellent movie recently. But this story based loosely on the Armin Meiwes case might very well have made an interesting movie (we did, after all, get a great Rammstein song out of it), even if it was on a shoestring-budget. But this isn't just technical ineptitude, this is artistic ineptitude.

"Diary of a Cannibal" doesn't serve any visible purpose, as art or entertainment, besides as an endurance test, almost a dare between filmmaker and the audience to see how long we can take it. That being said, there's no reason to see this, because nothing can be gained from presenting the story in a manner that alienates and punishes the audience. Are you seriously telling me there wasn't a better way to approach this story?

There's an incompetence here with a certain malice, a certain cynicism behind it. Awkwardly worded as that may sound, I can't think of anything better to describe "Diary of a Cannibal"--it's not just incompetent, it's incompetent in a way that suggests a contempt for the audience. I tell you what, if you're looking for some 'weird' horror films, this may actually sound interesting at first, but there are also ones out there that are actually done with some care and craft, not to mention competence--this isn't. One minute of your time "Diary of a Cannibal" kills is too many.
Kenneth W.
Discussion Forum
Discuss Diary of a Cannibal on our Movie forum!
News & Features