Dinner With a Vampire
(1988)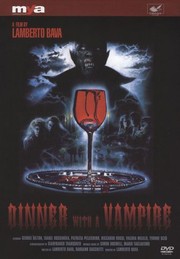 AUDIENCE SCORE
Critic Consensus: No consensus yet.
Tickets & Showtimes
Movie Info
Four aspiring scream queens and a male comic, all seeking to break into the movie industry, are summoned to the castle of a reclusive horror director named Jurek (George Hilton), a charming bloodsucker who invites them to partake in a macabre game of survival. Awoken from his centuries-long slumber by a curious film crew, Jurek quickly adapts to the contemporary world by becoming a successful filmmaker. His bloody hits are box office gold, and the opportunity to appear in one of them could provide an aspiring actor with their big break. When his guests arrive to discuss their audition for Jurek's next feature, he reveals himself as a vampire and challenges to kill him before dawn, or die trying.
more
Cast
News & Interviews for Dinner With a Vampire
Critic Reviews for Dinner With a Vampire
There are no critic reviews yet for Dinner With a Vampire. Keep checking Rotten Tomatoes for updates!
Audience Reviews for Dinner With a Vampire
½
is this a comedy? I think it is meant to be by the hunchback knock off of marty feldman's EYEgor from Young Frankenstein. Speaking of that, you straight spined jerks need to stop making fun of us hunchbacks. Some of us can cook and walk properly and not speak in a slurring slapstick pratfall accent born out of bad Romanian imitations! Seriously.

But no one suffers as much as vampires in this L.Bava made for tv stinkfest. Mainly, vampires are seen as so bored that they construct elaborate suicide games. Sure they evolved out of Cross and Garlic fears, get to run big corporations and enjoy making horror movies about themselves. They are still doofuses. Poor George Hilton.

Still I liked the movie. Yvonne Scio, yowsa! Plus Bava is in great atmospheric form. The Location is beautifully filmed and the trapped dorks are a good lot of screamers. So in the end, everything works out. Even the handmade special effects!
Dinner with a Vampire is one of Lamberto Bava's TV movies, but it surprisingly entertaining despite that fact. Dinner with a Vampire is a far cry from Bava's classic Italian horror films of the early 80s: Demons, Demons II, Macabre, Blade in the Dark, Delirium: Photos of Goia, etc. However, it is still a rather engaging blend of Hammer-style vampire horror and 80s-teen-sci-fi/horror-comedies: My Science Project, My Best Friend is a Vamnpire, Teen Wolf, The Lost Boys, etc. Dinner with a Vampire is a stupid, cheep-looking, and derivative piece of horror cinema, but it is sitll delightful and hilarious nonetheless, partly because of its toungue-in-cheek deconstruction of the vampire film genre but mostly because it doesn't give a crap about what you tihnk about it. It's a film about a group of wannabe actors who follow a job proposal to a mansion where the supposed producer turns out to be a vampire and shows them old vampire films in the process. I thoroughly enjoyed this film even if it was not up to the level of Bava's previous achievements.
Discussion Forum
Discuss Dinner With a Vampire on our Movie forum!
News & Features