Doctor Who and the Daleks
(1965)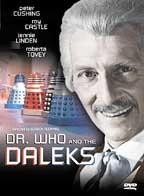 Doctor Who and the Daleks Trailers & Photos
Movie Info
Dr. Who was/is the longest-running entertainment series ever to run on the BBC, and for a variety of reasons, including its sassy humor, delightfully idiotic sets and special effects, and some first-class star-turns by a series of usually underrated actors in the title role, it generated a fanatic and devoted following in the U.K. One of the earliest "Doctors" in the movies was the great horror favorite Peter Cushing, and in this movie he saves the universe and, not incidentally, our dear old earth, from domination by the mostly robot and decidedly anti-biological Daleks (predecessors of the Borg, no doubt), a group of endearingly awfully designed (and made) A-frame shaped robots which, when massed together, appear to be engaged in a bumper-car race. No matter, the story races along at a furious and improbable pace, punctuated by wisecracks and gags, most of them from the almost-wise Doctor himself as he races about in his infinitely large (on the inside) antique London telephone booth known as "the Tardis" (Time And Relative Dimensions In Space), protecting the innocent. Fans of the series will be delighted with the film, but as is so often the case, newcomers to the series will wonder what all the fuss is about. The cumulative cheesiness of the whole Dr. Who concept does take quite a bit of getting used to, and any attempt to take the series or this movie seriously is doomed to failure. ~ Clarke Fountain, Rovi
more
Cast
News & Interviews for Doctor Who and the Daleks
Critic Reviews for Doctor Who and the Daleks
Audience Reviews for Doctor Who and the Daleks
Directors Cat
Super Reviewer
Sort of a big budget remake of the second serial to air in my favorite show, Doctor Who. The serial in question is The Daleks, which introduces the oldest and most recurring villain (the...uh...daleks). The film is sort of hit and miss. Personally, Peter Cushing isn't as entertaining for me as William Hartnell, his TV counterpart. This film on its own isn't all that special. The effects and color are stunning, and make the cheap old black and white originals pale in comparison...but the feel isn't quite as special as the series was from the start.
Ken Scheck
Fans of the original series... beware: this movie deviates quite a bit as to the nature and origin of the doctor, tardis itself as well as the original companions a bit. This might annoy you more than a bit if you're a true Whovian. But if you can let that go it's not all that bad given the era and when compared to the series (effects wise, plot, etc.). And in a way Cushing's Who is a bit more likeable than Hartnell's Who imo.

Btw, you can currently watch this on Hulu.
Discussion Forum
Discuss Doctor Who and the Daleks on our Movie forum!
News & Features