Dream Home
(2010)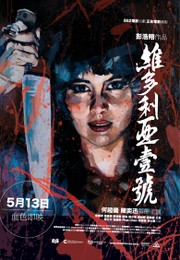 Dream Home Trailers & Photos
Movie Info
This extreme slasher film from director Pang Ho-cheung stars Josie Ho as Cheng Lai-Sheung, a woman in Hong Kong whose goal is to live in a place where she has a view of Victoria harbor. She goes to desperate, often illegal, means to raise the funds required to live in such prime real estate, but no matter how hard she tries she can't ever seem to reach the ever-increasing funds needed. Then one day she realizes that her dream is worth killing for. ~ Perry Seibert, Rovi
more
Cast
News & Interviews for Dream Home
Critic Reviews for Dream Home
Audience Reviews for Dream Home
Dream Home is one of the most vicious, gory, and violent (occasionally to the point of hilarity) slasher flicks that I've seen in quite a while. A Hong Kong woman has wanted to own a high-rise apartment for most of her life, and she's not going to let anyone stop her from achieving that dream.

Not only is Dream Home wince-inducingly entertaining, it also has a story that actually makes sense. Always a good thing (and often a bonus), in this kind of movie. The film jumps between the childhood of the main character, more recent events in her life, and the murderous rampage happening in the present, and it all ties together quite nicely. I highly recommend this to slasher fans looking for something beside the usual set-ups and characters and those looking for a foreign movie with a little more bite, but those with a tender disposition or no stomach for on-screen violence need not apply.
½
Dream Home plays in two parts - A horror film and a sappy drama. On the scary side it's a rollercoaster ride through hell. On the sappy side its torturous boredom. If you were to erase all its unnecessary nonsense (which is in between all the carnage) you'd have a great, shall I say...Masters of Horror episode. Keep in mind; I said a "GREAT" episode (which would be one of ONLY a few). So that's not saying much. But still, 50 minutes shy you're left with an over the top, brutal Japanese bloodfest. With its full running time you just get free bathroom breaks. Imagine Ichi the Killer with fu*king infomercials in between, only he's hosting himself, speaking elegantly, trying to sell you the best microwave oven. Within Dream Home lies a 45 minute horror film that is depraved, gory, and fun as fu*king hell. But I have to give a rating for its entirety, being it's a whole movie - one with a straight story from start to finish. My sarcasm probably makes you believe this movie's like a Sci-Fi channel parody of original crappy programming. Dream Home isn't a satire directed by John Landis. And it's far from Sci-Fi-ish. By no means is it lighthearted NOR does everything NOT piece together. It has a story that follows after each graphic detail. But here's its premise...

"Cheng Li-sheung is a young, upwardly mobile professional finally ready to invest in her first home. But when the deal falls through, she is forced to keep her dream alive - even if it means keeping her would-be neighbors dead. "

I ask:

Why is Cheng Li so EVIL? Why is she BEYOND Ultra-sadistic? Why does she have superhuman -like strength? Why won't she DIE? (she seems to slip right through every single assault). Why does Cheng Li show emotions of sadness and disgust, but yet continues her rampage? Was she ever institutionalized? Was she ever raped? Did her family emotionally or physically abuse her? Why can't she get a better job -instead she chooses to torture 25 innocent people? Is she slightly retarded - Mental illness? WHAT THE FU*K IS SHE...?

The answers to those and many, MANY more questions are never answered. I mean we see stuff from her past life, but no, those uh...those specific questions - NEVER answered. And don't give me, "She killed people to get her dream home. She loooooved that place". That's not a reason; it's just a motivation without a reason as to why it motivated her. And also, don't say "Her loved ones were forced to more out when she was younger, and they were pretty much left out to die. She went crazy!" - To that I say WHERE THE FU*K WAS THERE EVER a build up to this "insanity". Why not use a gun than if she was so angry. Why is she hacking, slicing, biting, butchering, and dicing...but again...looking nauseated? And please don't give me, "Michael Myers didn't have a real reason in the original" Who cares? Halloween was fu*king scary - Dream Home isn't scary. Dream Home plays with itself and smells like farts.

If the director didn't want to give an explanation, than fine - He should have left out all the serious drama (which led to nowhere, and just make it (like the good half) an over the top gore fest WITHOUT any explanations. At least it would have worked THAT way.

You won't get lost in the mist of randomness, in terms of spontaneous departures from forty different outlines. The problem isn't piecing the story where it fits; it's matching the pieces to blend with the story. It doesn't work to go "Dead Alive" - "General Hospital" - "Dead Alive" - "General Hospital". And yes, General Hospital is torture for me! But I do love Dead Alive. I'm not saying it's no good to have extreme opposites, even every second, but you better know the sport of film if you're going to persuade an audience you're not a fledgling hack who's inordinately uninspiring. At least some may feel that way judging on this movie alone, not knowing Ho-Cheung Pang is in fact a director of great talents. His track record consists of many accomplishments (none of which I've seen firsthand), but doing some research before I voice my opinion, it's safe to say Ho-Cheung Pang is lost in this specific genre. But showing some great potential I'm sure he'll get the gist a few more horror movies into the game.

Good gory horror, but overall...a dull film!


jd cryptic
Super Reviewer
Discussion Forum
Discuss Dream Home on our Movie forum!
News & Features