The Duellists
(1977)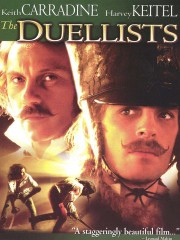 TOMATOMETER
AUDIENCE SCORE
Critic Consensus: Rich, stylized visuals work with effective performances in Ridley Scott's take on Joseph Conrad's Napoleonic story, resulting in an impressive feature film debut for the director.
The Duellists Trailers & Photos
Movie Info
The Duellists is based on a story by Joseph Conrad, variously titled The Duel and The Point of Honour. Keith Carradine and Harvey Keitel play officers in Napoleon's army -- D'Hubert and Feraud, respectively -- who spend their off-hours challenging each other to bloody duels. This goes on for nearly 16 years, with neither man showing any inclination of calling a truce. The final clash finds the gentlemanly D'Hubert getting the upper hand of the obsessed Feraud -- but that's not quite the end of the story. The Duellists was the debut feature for director Ridley Scott; it won the Cannes Film Festival prize for Best First Film. ~ Hal Erickson, Rovi
more
Cast
News & Interviews for The Duellists
Critic Reviews for The Duellists
Audience Reviews for The Duellists
Ridley Scott's The Duellists is an impressive period piece and a stunning first full length feature of a director who would carve himself a unique style and become one of the best directors in cinema. The film shows the early stages of what would make Ridley Scott a stunning director. The Duellists is a compelling picture that mixes drama and action in the Napoleonic era. The cast do a fine in their performances and Keith Carradine and Harvey Keitel are wonderful to watch on-screen. I really love period dramas as they reflect the most interesting aspects of history. The film looks great, is well acted and the plot is sure to appeal to cinema buffs that enjoy history based movies. The look of the film was heavily influenced by Stanley Kubrick's Barry Lyndon, and the result is a movie that looks absolutely wonderful. The sets and costumes are authentic to the time period and the result is a film that definitely belongs on the list of the best looking and best told historical dramas. Ridley Scott's direction is wonderful as well, and the film has effective pacing that you involved in the action and drama and above all, the well layered story. If you enjoy Ridley Scott's body of work, give his debut a look, it is well worth watching due to its cast, story and look. The film's obvious strong points are the sword fights, which make up the core of the story. This is a highly engaging film that is among the very best of period pieces. The Duellists is only rivaled by Kubrick's Barry Lyndon, also worth seeing. Both are fine pieces of cinema, but this one has a bit more action, which may appeal more viewers that enjoy a better paced movie rather than a massive epic.
½
it's wonderfully photographed but the story is a bit lacking and the american actors aren't helping with suspension of disbelief. i love harvey keitel but he just can't do everything
Stella Dallas
Super Reviewer
The Duellists Quotes
Feraud: I knew a man who was stabbed to death by a woman; gave him the surprise of his life.
Laura: I have given the matter some thought. You can't fight if you're in different places. Physical impossibility. And you I once knew a woman who was beaten to death by a man. I don't think it surprised her at all.
D'Hubert: What can I do?
Jacquin: I have given the matter some thought. You can't fight if you're in different places. Physical impossibility. And you can't fight if you're opted in rank. Breach of discipline. And you can't fight if we are at war. Duels of nations take absolute precedence. So, keep away from him, keep ahead of him, and put your trust in Bonaparte.
D'Hubert: You have kept me at your beck and call for fifteen years. I shall never again do what you demand of me. By every rule of single combat, from this moment your life belongs to me. Is that not correct? Then I shall simply declare you dead. In all of your dealings with me, you'll do me the courtesy to conduct yourself as a dead man. I have submitted to your notions of honor long enough. You will now submit to mine.
Discussion Forum
Discuss The Duellists on our Movie forum!
News & Features