Dumbstruck
(2011)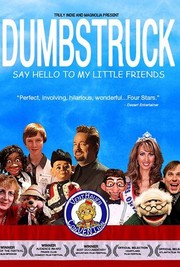 Tickets & Showtimes
Dumbstruck Trailers & Photos
Movie Info
If mom or dad ask what you want to be when you grow up, and you answer, 'a ventriloquist,' chances are they will a) question your sanity, b) have you locked up, c) be thrilled because they've just seen the delightful new documentary, DUMBSTRUCK. The journey begins at the annual Vent Haven convention in Ft. Mitchell, Kentucky, ventriloquism capitol of the world (now you know where to take your next vacation). The film focuses on five 'vents', who are quirky enough to star in Christopher Guest's BEST IN SHOW. But they are real, and their stories are deeply human and universal: Dylan, a shy 13-year-old who dreams of being a professional but whose dad prefers football; Kim, a former Miss Ohio beauty queen, who yearns to 'make it' on the cruise ship circuit; Dan, a successful cruise ship performer whose wife may divorce him when he comes ashore; Terry, who, after 22 years of struggle in Corsicana, Texas, finds himself on NBC's America's Got Talent with a chance to win $1 million; and Wilma -- all six-foot-five of her -- who brings her dummies to Walmart and 'entertains' in senior homes. With its heart firmly planted on its polyester sleeve, Dumbstruck takes the American dream sideways and never loses its way. The film traverses the country from coast to coast, cruising the Mexican Riviera, Bahamas and Japan. We share in their successes and missteps, both on- and off-stage, as they strive in their own ways to achieve the American dream. The film is filled with music, laughter and a roller coaster of emotions, riding through the world of ventriloquism. --(c) Official Site
more
Cast
News & Interviews for Dumbstruck
Critic Reviews for Dumbstruck
Audience Reviews for Dumbstruck
Whoever thought that the world of ventriloquism could be so fascinating, or this touching? The greatest part about this documentary is not the dummies on display, but the real people behind their voices, movements, and emotions. In only 85 minutes you get a snapshot of the lives of five people who have given their time, talent, and their self-worth over to a career that asks an audience of children or adults to laugh at a stuffed puppet. More importantly, the film shows the heights and lows of such an endeavor. You see stars like Terry Fator born, and a marriage dissolve. You see a mothers disdain for her daughters love for what she does, and a fatherÔ(TM)s disappointment that his son would rather play with dummies, than be a football player. This is real life, in all of its sweetness and its sorrows.

GRADE: B+
I always love watch documentaries, I find them intriguing in that I learn about something that I would normally not want or care to see. Dumbstruck is a doc about ventriloquism, being that one of my greatest fears going up was a little doll named Chucky from a little movie called Child's Play I had no desire to sit through a 90min movie about dolls/puppets/dummies...whatever.
After the movie I was pleasantly surprised. The movie was a little slow in the beginning, but as are most docs. The characters introduced became more real with each passing min and I found myself sympathizing with them in that, I have a hobby/vice that some would consider weird, so what makes us so different?
The film was good...definitely a movie I think will be talked about after its release on Netflix (where most people catch up on their documentaries).
dimes lincoln
Discussion Forum
Discuss Dumbstruck on our Movie forum!
News & Features