Dungeons & Dragons
(2000)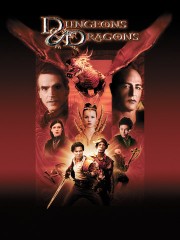 TOMATOMETER
AUDIENCE SCORE
Critic Consensus: Critics say this movie has a cheap look and is badly directed. Despite the presence of talented actors, the performances are really bad, and additionally, some people are offended at Marlon Wayans' character, calling it a racist throwback to black stereotypes.
Tickets & Showtimes
Dungeons & Dragons Trailers & Photos
Movie Info
The Empire of Izmer has long been a divided land. The Mages - an elite group of magic users - rule whilst the lowly commoners are powerless. Izmer's young Empress, Savina, wants equality and prosperity for all, but the evil Mage Profion is plotting to depose her, and establish his own rule. In order to prevent Profion from taking over her kingdom, the Empress must find the legendary Rod of Savrille that controls the powerful Red Dragons. Enter two thieves, Ridley and Snails, who unwittingly become instrumental in the search for the Rod. They are joined by Mage Apprentice Marina, a feisty Dwarf named Elwood, and helped by the Empress's expert tracker, the Elf Norda, as they outrace Profion's chief henchman Damodar to find the magical Rod that will set their Kingdom free.
more
Cast
News & Interviews for Dungeons & Dragons
Critic Reviews for Dungeons & Dragons
Audience Reviews for Dungeons & Dragons
I admit it. I actually really like this movie. There was a lot of bad in it, but a lot of good too. But before you see this movie, you need to be reminded that there is a LOT of bad.

Let's start with Jeremy Irons portrayal of Profion, an evil sorcerer trying to overthrow the kingdom's government. This might be some of the worst acting you've ever seen. In the last scene, you can barely understand what he's saying! And then there's the infamous "Hatatatatata!!" moment. The supporting villain is pretty bad too. His talk speed makes Eor from Winnie the Pooh look like Chris Tucker. Doesn't help that he has blue lips. There are also a few scenes that might have been seen as Indiana Jones ripoffs.

Now let's go on to the good. Besides Jeremy Irons and Bruce Payne, the acting was actually pretty good. Marlon Wayans and Justin Whalin did a pretty good job in particular. By the time Snail is killed, we (Well, I at least) really feel for his death. Zoe McLellan did a pretty good job too, and I'm NOT just saying that because she's hot.

The plot is pretty good too, even if it is a star wars ripoff. It shows a few historical traits to make it smarter than it's 10% rating might convey.

It also has a fair amount of heart. It's no Gone with the Wind, but compared to most fantasy films, it was pretty emotional. Lot's of scenes with great emotion.

I also think that it has a great message. Though it may be lost under Irons overacting, the film has a great message about how many different people can come together to achieve a common goal.

Bottom line, this was a good movie. Not spectacular, and I can understand the negative reviews, but good. I won't reccomend it, however, to anyone other than my friends.
Marc Lewis
Super Reviewer
½
Not technically a 90s movie, but it certainly falls into the same weird vibe that the decade created. Now i've never played the game, but i'm sure it's nowhere close to this very crazy mythical world that really takes more from Dune and the Lord of the Rings cartoon from what I could see. The over-acting is hilarious and some of the lines are just utterly amazing in terms of originality. Mainly because no one would do or say anything that was done or said in this movie.
Dungeons & Dragons Quotes
Snails: I thought you said this was gonna be easy!
Ridley Freeborn: No, I said it wasn't impossible
Snails: That's the same thing you said when we robbed that little halfling's house. And who'd he catch? Me. And who'd he beat from the waist down? Me.
Snails: I got a new name for 'dumb': 'Ridley'! This is the Ridleyest thing I've ever heard!
Damodar: Just like you thieves, always taking things that don't belong to you.
Discussion Forum
Discuss Dungeons & Dragons on our Movie forum!
News & Features