East/West
(2000)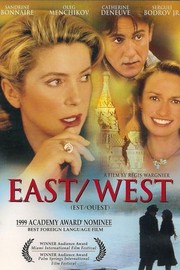 Movie Info
French director Regis Wargnier's fifth feature film is a romantic period drama which is also a tribute to the victims of a tragic Stalinist episode. In June 1946, Stalin launched a major propaganda campaign aimed at Russians who had settled in the West, offering them amnesty and an opportunity to be involved in the postwar restructuring of the USSR. Many people who believed Stalin and returned home were executed, interned, or subjected to repression. The protagonist of Est-Ouest, Alexei Golovin (Oleg Menshikov), takes his young French wife Marie (Sandrine Bonnaire) and son Serioja with him on the long journey back to his native land that he has missed so much. On the board of the steamship taking them to Odessa, people like them celebrate the new life that they anticipate. However, reality strikes when they reach shore. Many people are immediately executed or sent to work camps. Alexei is spared to use his skill as an accomplished doctor. He is sent to Kiev to work in a dispensary and live in a communal apartment. Alexei accepts his fate but Marie dreams of escaping to freedom. Opportunity comes her way when she meets Gabrielle Develay (Catherine Deneuve), a famous French actress on tour, passing through Kiev. Tension mounts as the relationship of Alexei and Marie is put to test. For the script of this co-production between France and Russia, Wargnier had three other collaborators: Louis Gardel, who had previously collaborated with Wargnier on Indochine; Sergei Bodrov, a well-known Russian filmmaker best-known for his award winning S.E.R. and The Prisoner of the Mountains; and Azeri scriptwriter Rustam Ibragimbekov, best remembered for his scripts of Nikita Mikhalkov films. ~ Gönül Dönmez-Colin, Rovi
more
Cast
News & Interviews for East/West
Critic Reviews for East/West
Audience Reviews for East/West
East/West is an interesting examination of 1946 Russia. A married couple immigrate back to Russia to discover they're carefully being watched by the secret police. The wife makes it her mission to leave the country, but her husband is stopping her from doing so.

The film is well shot, carefully acted and evenly paced. Its not 100% fact, but its a very engaging film that's wide scope and epic.
I didn't expect to but I actually enjoyed this movie. I'm surprised I was able to sit and read subtitles for 2 hours. It got kind of jumpy near the end with the "One month later....6 years later....3 months later..."
Discussion Forum
Discuss East/West on our Movie forum!
News & Features