Eight Miles High!
(2008)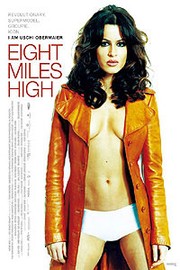 Eight Miles High! Trailers & Photos
Movie Info
A Munich teen achieves worldwide fame as the embodiment of sexual freedom in the 1960s after romancing some of the biggest rock stars on the planet and rising to stardom as a successful supermodel in this biographical musical drama centering on the eventful life of Uschi Obermaier. Until she arrived at the legendary Berlin "Kommune 1," Obermaier (Natalia Avelon) was just your typical German teen. All of that would quickly change, however, as Obermaier entered into a heated affair with leader Rainer Langhans (Matthias Schweighofer), appeared on the covers of Playboy and Stern, and became an icon of the young generation. But even when offered the opportunity to become an international film star by Italian producer Carlo Ponti, Obermaier refuses to trade her freedom for fleeting fame. Later, after experiencing the darker side of fame during a relationship with Rolling Stones guitarist Keith Richards and realizing that she can no longer reconcile her outlook on life with living like a common groupie, the outspoken hippie nymph embarks on a quest to find eternal love with charismatic globe-trotter Dieter Bockhorn, the owner of Hamburg's red-light district.
more
Watch it now
Cast
News & Interviews for Eight Miles High!
Critic Reviews for Eight Miles High!
Audience Reviews for Eight Miles High!
I very much enjoyed this movie. And, it wasn't because I got to see a stunningly beautiful woman naked for extended periods. It was a fun, uninhibited ride of a movie that is no longer seen in American movies (I?m sick of American movies always trying to drive home some point ? please just entertain me and get off your high horses). If you are looking for deep meaning or characterization, you'll be disappointed. There was only one point this movie made, and it made it well ? free-living freedom can easily become loneliness.
Stephen Wilhelm
½
Took me 3 start-and-stops to finish this. And I'm home sick and bed so its not really like I had anything else to do...

I'm not sure what this movie set out to accomplish. If it was indeed written with the help of the real Uschi based on her experiences; she doesnt paint a very good picture of herself. She's basically manipulative and uses her beauty to get what she wants. And then her big moment in the end when she realizes she's alone, she feels she wouldn't have done anything different. Well, fine - I wont weep for you.
The movie just sort of drags along, nude scene after nude scene, Natalia Avelon's breasts must be in every scene. I felt I should have been seeing a Russ Meyer flick. But then again a Russ Meyer movie would have been FUN.
I'll also never begin to understand how women think Keith and Mick are hot so that alone is a turnoff.
Discussion Forum
Discuss Eight Miles High! on our Movie forum!
News & Features