Equinox Flower
(1958)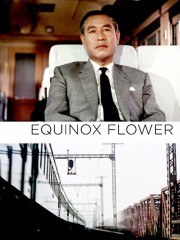 Equinox Flower Trailers & Photos
Movie Info
In this film, a young girl impulsively decides to marry. The girl's father had always expected that his daughter would ask his permission to be wed and wait until he'd chosen her husband for her. Dad's anger at not having been consulted is played out in long, uninterrupted takes.
more
Cast
News & Interviews for Equinox Flower
Critic Reviews for Equinox Flower
Audience Reviews for Equinox Flower
ozu's first color film not only brought an insurgence of popping colors and lights into his art direction, but it brought a new wave of thinking as well. ozu's work up until this point had been more focused on traditional japanese family values and the younger generations responsibility to their elders. in this film we see a shift in ozu's thinking where he engages in the more emerging and progressive cultural leanings of allowing more freedom and respect to younger people. although many people grow harder as they get older including some of the characters in this film, ozu himself softens and portrays the family in ways he hadnt done until now. in the same way ozu had resisted color in film until this movie, and then he used color vibrantly to the fullest of its potential. the film itself started far too slow, but it picked up and ended well and deserves an added measure of respect because of what it meant for ozu's career. a great film.
½
[font=Century Gothic]"Equinox Flower" starts with a businessman, Wataru Hirayama(Shin Saburi), giving a toast at a wedding reception, celebrating the young couple's love over his own arranged marriage, right in front of his wife(Kinuyo Tanaka). He misses an old friend(Chishu Ryu) who was not at the wedding because he could not face such a happy celebration with his daughter(Yoshiko Kuga) shacking up with another man and working at a bar on the Ginza. On the home front, they are busy contemplating possible matches for their older daughter, Setsuko(Ineko Arima)...[/font]

[font=Century Gothic]With "Equinox Flower," Yasujiro Ozu takes another poignant look at the workings of the family with an emphasis on the changing state of marriage in Japan. Like most of his other movies, it sneaks up on the viewer but it is also a little too long. I was surprised to see arranged marriage as a viable option at this date, with the social standing of one's family being so important in choosing a possible spouse for one's children. Hirayama's conflicted state comes from wanting his daughter to be happy, in terms of the best possible husband, which is understandable as how marriage is theoretically forever, but he also manages to cross the line on occasion. But as old fashioned as some of the characters are, the movie is ahead of its time in a couple of matters including an unmarried couple living together and a very, very pointed question that is asked of Setsuko by her father. [/font]
Discussion Forum
Discuss Equinox Flower on our Movie forum!
News & Features