Evangelion: 2.0 You Can (Not) Advance
(2011)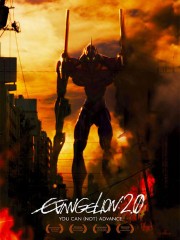 Evangelion: 2.0 You Can (Not) Advance Trailers & Photos
Movie Info
In the earliest battles against the monstrous Angels, young Eva pilots Shinji and Rei were forced to carry humanity's hopes on their shoulders. Now, with the deadly onslaught of the Angels escalating and the apocalyptic Third Impact looming, Shinji and Rei find their burden shared by two new Eva pilots, the fiery Asuka and the mysterious Mari. Maneuvering their enormous Eva machines into combat, the four young souls fight desperately to save mankind from the heavens - but will they be able to save themselves? -- (C) FUnimiation
more
Cast
News & Interviews for Evangelion: 2.0 You Can (Not) Advance
Critic Reviews for Evangelion: 2.0 You Can (Not) Advance
Audience Reviews for Evangelion: 2.0 You Can (Not) Advance
½
"The Third Impact is beginning. This is the end of the world."

Evangelion 2.0 is a much bigger departure from the original series than the first movie was, and it's an incredible anime feature, as a result. Everything is bigger and better, and it feels much more like a movie than just a collection of episodes.

The animation is once again fantastic, the new battle scenes and Angel designs are impressive, and all the story/character additions and character changes are absolutely for the best. The writing and flow of the story has been notably improved, to the benefit of all of the main characters. I also have to mention how great the music is; it serves as a perfect compliment and counter-point to what's happening on screen, and at times demands as much of your attention as the visuals do.

Casual Evangelion fans, die-hards, and newcomers should not hesitate to check out these movies. It's completely accessible to a new audience, while retaining and expanding upon the core of why this series is one of the most popular and influential. I'm no Evangelion fanatic, but I can't deny the quality of what I'm seeing in progress. 1.0 was great, and 2.0 is fantastic. I CANNOT wait to see where the third movie takes us, next. This is one of the best movies (animated or otherwise) that I've seen in quite a while.
This four-film project had the chance to get right the things that went wrong with the series, namely the technogibberish, the many underdeveloped ideas, the labyrinthine plot and the over-the-top ending; the first two films totally failed on that account. This second film indulges even more to technogibberish and non-sensical narration that wants to pose as sophisticated. The teen-angst characters seem fake and a bad replica of the original. The whole film seems like a cliche based on the tropes that the original series managed to establish. Shots like the elevator scene between Rei and Asuka have become a lot shorter (the original was painfully long but totally appropriate for the moment) and the whole character relations have got a harem-genre turn. Silly fan service is everywhere (for the male audience of course) which ruins the attitude of the film. The animation however is beautiful and the larger production values show, but somehow with less character than the series. The original series was a ground of extreme experimentation with narrative, strange angle shots that mirrored the internal states of the characters and some nice post-modern narration here and there (that was getting out of hand at the last episodes). Approach with caution or go see the series.
Evangelion: 2.0 You Can (Not) Advance Quotes
Shinji Ikari: Give me back Rei!
Makinami Mari Illustrious: Point blank, shithead!
Shinji Ikari: Give... Ayanami... back.
Discussion Forum
Discuss Evangelion: 2.0 You Can (Not) Advance on our Movie forum!
News & Features