Evil Toons
(1992)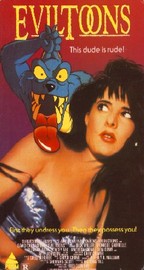 Movie Info
Four coeds take on a job cleaning houses to earn extra money but get more than they bargained for when they are assigned to a eerie mansion in this horror parody. Soon, they are forced to fight off a lustful, mischievous little monster with the help of a frightening ghost.
more
American International Pictures
Cast
News & Interviews for Evil Toons
Critic Reviews for Evil Toons
Audience Reviews for Evil Toons
Doctor Strangeblog
Super Reviewer
½
A poor excuse for some soft core porn.
Famed cult director Fred Olen Ray, king of 80's schlock brought us his most demented and absurd film yet way back in 1992 (even though the look of the film suggest mid-80's) called Evil Toons. Many years ago, the owner (David Carradine) of house haunted by demons from a book eerily resembling the Necronomicon kills himself by way of hanging (how about that for a premonition!). Years later, four sexy young girls (including Monique Gabrielle, Suzanne Ager and pornstars Madison Stone & Barbara Dare [dubbed Stacey Nix]) are hired on by the great Dick Miller to clean up the infamous house. Instead the girls occupy their time by getting naked a bunch for no apparent reason and using the book to summon a (singular) Evil Toon, which kills one of the girls and inhabits her body throughout the rest of the movie, save for a small blip at the film's climax, leaving the Toon to actually be present in the film for a whopping 1-1 1/2 minutes. Honestly, Fred, why even bother calling it Evil Toons, you old boob! Anyways, the story is dumb, the acting is dumb, and the overall film is dumb, but if you have a soft spot for the work of Fred, or enjoy looking at some amazing early-90's naked chicks, this film will suit you. Aside from Carradine and Miller, there's also some cameos from TV star Arte Johnson and the ultimate 80's underground scream queen (and my true love) Michelle Bauer (yes, she does pop the titties out in her brief role). Yes, the girls get naked a lot, but that's NOT softcore. People nowadays do not understand what softcore films are. Imagine a hardcore adult film...ok, now take away the insertions and cum shots...and there you have it: softcore. Lots of naked chicks in this film, but nary a single sex scene (though it does come close to one). That's not a softcore film folks.
Discussion Forum
Discuss Evil Toons on our Movie forum!
News & Features