Father of Invention
(2011)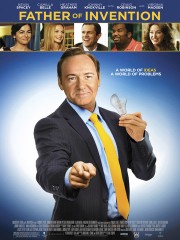 Father of Invention Trailers & Photos
Movie Info
Millionaire infomercial guru, Robert Axle (Kevin Spacey) loses everything when one of his inventions has a design flaw that accidentally chops off the fingers of thousands of customers. After serving eight years in prison, a disgraced Axle is released, and ready to redeem his name and rebuild his empire with a new innovation. However, Axle's ex-wife (Virginia Madsen) has spent all of his money and moved into his house with her new husband (Craig Robinson). Out of desperation, he finds a part-time job as a janitor, and is forced to move in with his estranged daughter (Camilla Belle) and her over-protective roommates. Despite these setbacks he is determined to pitch his newest gadget and rebuild his infomercial empire. But the world has changed in the last decade, and Axle finds himself out of step with current technology, his family, and the self-confidence that made him king of the infomercials in the past. With all his wheels spinning, Axle soon realizes before he can be successful with his new creation, first he must reinvent himself. -- (C) Anchor Bay
more
Cast
News & Interviews for Father of Invention
Critic Reviews for Father of Invention
Audience Reviews for Father of Invention
Chris Weber
Super Reviewer
This was quite a surprise, especially after seeing so many bad reviews. I really enjoyed this. I have to admit, a good Kevin Spacey film is very rare these days. This one, though, I found very enjoyable. It's funny, but not always laugh out loud funny..more smiles and chuckles, and I like that in a movie. I didn't have high expectations for this one, but it is a wonderful little dramedy, in my opinion..........
Cast:Kevin Spacey, Camilla Belle, Heather Graham, Virginia Madsen, John Stamos, Michael Rosenbaum, Johnny Knoxville, Craig Robinson, Rhoda Griffis, Anna Anissimova

Director:Trent Cooper

Summary: Robert Axle (Kevin Spacey) is a humble, if eccentric, genius whose flair for invention catapults him to fame, fortune and insufferable egomania, until a terrible incident involving one of his creations brings him crashing back to earth and into prison. Nearly a decade later, Axle is released, and he's determined to rehabilitate his reputation and rebuild his fortune. First, he has to convince his daughter that he's worthy of a second chance.

My Thoughts: "A nice daughter and father dramedy. Not the best I've seen come from Kevin Spacey, but being a huge fan I'm down to watch anything he is in. I thought he did great with the material he was given. The relationship between Robert Axle and his daughter Claire is rough but has it's sweet spots. I actually really liked Heather Graham in the movie. She was very funny. Johnny Knoxville does great playing Oswald, a bit of an annoying character, but yet funny as well. Truthfully the movie really wasn't that funny, it was more of a drama to me, but it had it's moments. Worth seeing at least once."
♥˩ƳИИ ƜѲѲƉƧ♥
Super Reviewer
Discussion Forum
Discuss Father of Invention on our Movie forum!
News & Features