The Final Countdown
(1980)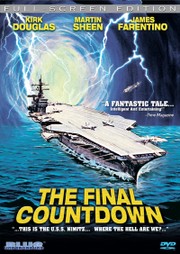 Tickets & Showtimes
Movie Info
The USS Nimitz, a modern-day nuclear-powered aircraft carrier captained by Kirk Douglas, passes through a time warp and finds itself at Pearl Harbor on December 6, 1941. Douglas is all for preventing the infamous Japanese attack by unleashing the 1980s technology at his disposal. But wait--if history is inviolate, what will happen to future events if the attack doesn't come off? For nearly two hours, pros and cons are volleyed back and forth by Douglas, by ambitious senator Charles Durning, and by concerned observer Martin Sheen.
more
Cast
News & Interviews for The Final Countdown
Critic Reviews for The Final Countdown
Audience Reviews for The Final Countdown
The Final Countdown is a unique and original film that delivers terrific thrills. With a fine cast of talented actors, director Don Taylor crafts this Action Sci Fi film that tells the story of the USS Nimitz send back through time on December 6, 1941, one day before the attack on Pearl Harbor by the Japanese. The plot is wonderful, and director Don Taylor crafts a film that definitely is entertaining from start to finish. Sure the film's premise is absurd, and not believable, but that's what makes this such a thrilling film. This is a must see for Sci Fi fans who enjoy a different type of film. The strength of the film lies with its cast and effective directing. Director Don Taylor presents us with a wonderful film that has some terrific visuals. There are plenty of things going for this film to make it worth seeing and the film ends up being so much fun that you just don't care how ridiculous the premise is. This is a popcorn flick pure and simple. This meant for mindless entertainment, and it most certainly does that. If you want a really amusing, then check this one out. The film may have its flaws, but it certainly is a terrific film that is not meant to be taken seriously. With a great cast that delivers on-screen, The Final Countdown is a near flawless fun film that delivers a good plot with fine acting and it overcomes its flaws by being something original. Go into this film with an open mind, you're sure to enjoy, just don't expect a masterpiece. In terms of popcorn films, The Final Countdown is one of the best.
Hard to believe this excellent movie came out in 1980, It was really enjoyable then and still enjoyable today. Great to see the carrier ops from 1980 time frame which haven't change much except for the aircraft on board the carrier. The Nimitz time travels back to the day before pearl harbor an is drawn into battle with Japan, well almost. 5 stars 9-18-12
Bruce Bruce
Super Reviewer
Discussion Forum
Discuss The Final Countdown on our Movie forum!
News & Features