The Firefly
(1937)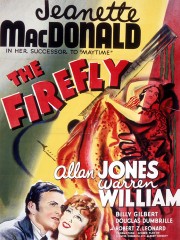 AUDIENCE SCORE
Critic Consensus: No consensus yet.
Movie Info
In this adaptation of the operetta by Rudolf Friml, secret agent Nina Maria Azara (Jeannette MacDonald) is working undercover for the King of Spain as a singer known as the "Mosca del Fuego" or "Firefly." Her mission is to uncover Napoleon's plot to invade Spain before it is too late. This film features a variety of songs including "Donkey Serenade," "Love Is Like a Firefly," " and "When a Maid Comes Knocking At Your Heart."
more
Cast
News & Interviews for The Firefly
Critic Reviews for The Firefly
All Critics (2) | Top Critics (1) | Fresh (0) | Rotten (1)

Chicago Reader
Top Critic
Classic Film and Television
Audience Reviews for The Firefly
Jeanette MacDonald plays Nina Maria, a vivacious singer who has captured the hearts of all the men in colonial Spain and France during the time of Napoleon. The secret of Nina is that she is a sort of spy who is attracting French officers to get information about Napoleons plans to invade Spain. As she is trying to dissuade a French officer to go on to the next one she kisses a Spanish gentleman who becomes enamored with her and follows her to her next mission, to sing for a large group of French officers in Vitoria. He interferes with her plans on getting information from a French Colonel. Jeanette lights up a room with her voice and her dazzling smile, which has to be one of the best in the history of film. But there is deceit as the Spanish gentleman is actually a French spy and they have suspected Nina for some time and they are out to catch her. But she is smart enough to realize that she is a suspect and does not fall into their plan. Napoleon does take over Spain and with the help of the English there is war. Toward the end of the war Nina is asked to go undercover as a gypsy behind French lines where she meets up with Colonel who is now in charge of the army. She gets caught and meets up again with Captain Andrea (Allen Jones). She fools both of them into changing their battle plans for Spanish victory. It gets a little ridiculous as she sings while in jail as the town is being shelled.
Mike L
Love this movie Allan Jones and Jeanette Macdonald are wonderful in their only starring role together!!!!!!!!!!!
Discussion Forum
Discuss The Firefly on our Movie forum!
News & Features